EEA Presents JumpstART, an evening of free public arts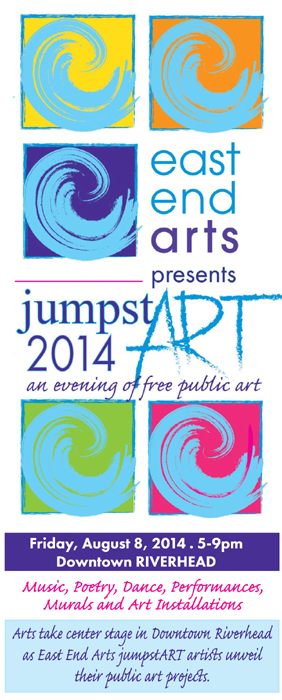 An evening of free public arts: murals, poetry, performances, live music, dance, art installation
Arts take center stage in Downtown Riverhead as East End Arts' JumpstART artists unveil their public art projects created during six months of professional development study.
ALSO East End Arts' 3rd Annual National Show Opening Reception in the EEA Gallery (133 E. Main Street)
AND Enjoy a Martha Clara Vineyards wine tasting event in the EEA Carriage House (located behind the Gallery) the night of the reception! Small suggested donation supports East End Arts.


Pick-up a map of events at the East End Arts Gallery, 133 E. Main Street, Riverhead NY
Or CLICK HERE to download the map >>


SCHEDULE OF EVENTS
Experience JumpstART public art projects from 5 – 9 PM throughout Downtown Riverhead! Most installations can be visited throughout the evening. All activities are FREE, unless otherwise noted.
5 – 7 PM :: East End Arts' 3rd Annual National Show Opening Reception in the EEA Gallery, 133 E. Main Street. Refreshments will be served.
5 – 9 PM :: Enjoy a wine tasting event with Martha Clara Vineyards in the EEA Carriage House, located behind the Gallery, 133 E. Main Street. $5 donation for three wine tastings supports East End Arts.
5 – 9 PM :: Live music throughout Downtown featuring East End Arts faculty, students and friends
5 PM :: Poetry Street Open Mic at Blue Duck Bakery
5 – 7 PM :: Live Music: George Cork Maul (piano) & Jeannie Woelker (cello) at Green Earth Grocery, 50 E. Main Street
5 – 7 PM :: Live Music: Andrea Modugno (piano) & various East End Arts School student vocalists and keyboardists, at EEA School Porch, 141 E. Main Street
5:30 PM :: Peconic Ballet Theatre performance at Grangebel Park Stage
6:15 PM :: Blue Spruce Cloggers step-dance performance, in parking area east of EEA Grounds, along the Peconic River
7 PM :: Teen Idol Showcase Concert presented by Riverhead Townscape & John Wesley Village at Grangebel Park Stage
7 – 9 PM :: Live Music: Stan Wright (guitar), Mark Gatz (saxophone), Ahmad Ali (guitar) playing R&B, Blues, and Classic Pop Hits, at 203 E. Main Street
7:30 PM :: Flashmob community dance to Michael Jackson's "Thriller" choreography, facilitated by Riverhead Free Library, in the parking area east of EEA Grounds, along the Peconic River
7:30 – 9:30 PM :: Live Music: Bryan Campbell (guitar) & Jerry Liggon (African percussion) playing Jazz & World Beat, at Gazebo on the Peconic Riverfront
8 PM :: "We Are All Connected" Fire Ceremony on East End Arts grounds
8 PM :: "Light Murals" projection begins, on the back of buildings east of EEA Grounds, along the Peconic River
8 PM :: RiverFires, presented by the Riverhead BID on the Peconic River, east of Peconic Ave
8 PM :: Suffolk Theater presents Joan Osborne in concert, tickets required. 118 E. Main Street


JumpstART Public Arts Projects to be unveiled:
click here to meet the artists and hear their stories >>
• Mixed media artist Ginger Balizer-Hendler of Glen Head will present "The Adventures of Gingerella", a whimsical dreamscape and interactive experience which will come to life within a storefront on Main Street in collaboration of other artists, and will then proceed to the River & Roots Community Garden;
• The Blue Spruce Cloggers of Mt. Sinai presents a performance of step-dancing including clog, tap & Irish-step, with audience participation, in parking area east of EEA Grounds, along the Peconic River;
• Spoken word artist Susan Dingle of New Suffolk presents "Poetry Street… Where every voice is heard!", open mic and featured poets at the Blue Duck Bakery;
• Painter Lorraine Manzo Angeletti of Middle Island and ceramic sculptor Tina Folks of Patchogue present "We are all Connected" will create a Native American inspired sacred circle that incorporates artwork, a fire ceremony, the Hindu practice of the tree pose, drumming and the spoken word, where through hands-on activities rooted in ancient traditions, participants will explore the universal theme of community; Fire Ceremony beginning at 8:00 PM
• Fine art photographer Miranda Gatewood of Westhampton will present "Light Murals", iconic projections of her landscapes – taken within a 10-mile radius of Downtown Riverhead – onto buildings in disrepair, a metaphor for projecting possibilities for the future of the township undergoing reconstruction and renewal;
• Mixed media artist Kristina Howard of PrettyCrab in Center Moriches will present her "PrettyCrab" Surreal Aquarium
• Mixed media artist Charles Manfredi of CAM Studios in East Islip presents "Baldies Visit Riverhead", a diorama of the Suffolk Theater with the baldies figurines as merchants and patrons in the town;
• Painter Barbara Maslen of Sag Harbor presents freestanding mural columns celebrating Riverhead's agricultural heritage;
• Multi-media artist Carolyn Munaco of Hampton Bays presents "Surf Art in the Barn" as it takes over East End Arts' Barn, a solo exhibition of multiple mediums by the local surf artist;
• Window/mural painter Karen Noack of Centereach presents "Symbolic Language of Flowers Window Mural", an expression of emotions and feelings using the symbolic language of flowers, which was a method of personal communication during the Victorian era;
• Natural interpretive artists Charlene Pulsonetti of Remsenburg presents "Sanctum", a safe space where visitors can experience peace and positivity;
• Painter Caitlyn Shea of Melville presents a larger-than-life hummingbird mural as a new permanent landmark for downtown Riverhead, representing the rapid and industrious rhythm of the community as it works towards further revitalization;
• Visual artist Jessica Valentin, also known as Ratgrrl, of Oakdale will present her Ratgrrl Royalty project, an epic street art style visual treasure hunt with a sweet message: "We are all Kings and Queens, a royal family!";
• Painter Annemarie Waugh of East Setauket presents "LOST Long Island", a multi-media project aimed to promote an awareness of things becoming lost to Long Island.
DOWNLOAD OUR APP! Visit the App Store on your smartphone or tablet - Google Play or Apple App Store - and down the "East End Arts" App to gain exclusive access to information from the JumpstART artists about their projects! Scan the QR Code when experiencing the art to hear stories about their work. This app was generously sponsored by Caleidolabs LLC.
STAY CONNECTED! When posting about this event on Facebook, Twitter or Instagram, don't forget to tag us! @EastEndArts
#eearts #eastendarts #EEAjumpstART #iloveriverhead
Partners
Barth's Drug Store
Blue Duck Bakery
East End Disability Associates, Inc.
Martha Clara Vineyards
Peconic Ballet Theatre
Riverhead Central School District
Riverhead Free Library
Riverhead Restaurants & Businesses
Riverhead Townscape
Suffolk Theater
Supporters
All for the East End (AFTEE)
Bulldog Graphics
Caleidolabs LLC
Sheldon Gordon, Riverhead Enterprise
Hamptons Art Hub
Long Island Community Foundation
myLITV.com
New York State Council on the Arts
Karen Noack, graphic designer
Riverhead Business Improvement District
RiverheadLocal.com
Suffolk County Department of Economic Development
Times/Review NewsGroup
Town of Riverhead, Community Development
WPPB 88.3 FM
Yelp.com
CLICK HERE for more information on the JumpstART artist professional development program >>