DEADLINE for Street Painter Registration: Community Mosaic Street Painting Festival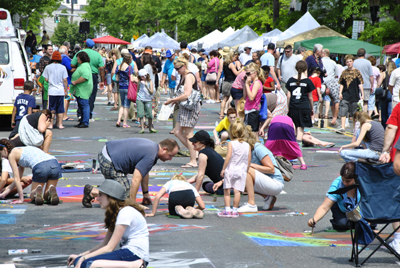 BE A STREET PAINTER!
At the 19th Annual Community Mosaic Street Painting Festival
Event Date: Sunday, May 24, 2015, 12 – 5 PM
Event Location: Presented by East End Arts in Downtown Riverhead, NY
Rain Date: Monday, May 25, 2 – 5 PM
5,000 visitors are expected to attend this popular community event.
"I Madonnari" is a street painting art form dating back to 16th Century Italy, where street painters created works of art in front of cathedrals to pay homage to the Virgin Mary.
Street painting artists (14 years of age or older) who register in advance are assigned a sponsored square. There are a limited number of sponsored squares, which are assigned on a first come, first serve basis. There is no fee for street painting artists who register in advance. Chalk and blending materials are provided. We recommend bringing kneepads and a hat. Artwork must be suitable for public viewing. No words or symbols intended as advertising may appear within the image, however you may sign your name. If your square is sponsored, the sponsor's name will appear above the space. You will be notified of acceptance prior to the event. Street painting artists agree that work done in conjunction with this festival may be reproduced by photograph or video and used by the East End Arts for promotional purposes. Street painting squares are also available for purchase the day of the event for $20 each.
CLICK HERE to download the PDF registration form >>
Sponsorship of street painting squares supports the scholarship program at East End Arts School. Sponsor business names or dedications will be inscribed above the sponsor street square. Levels of sponsorship range from $100-$500. For more information on sponsorship opportunities, please call 631-727-0900.