DEADLINE for Artists, Artisans & Craft Vendors to Apply: Community Mosaic Street Painting Festival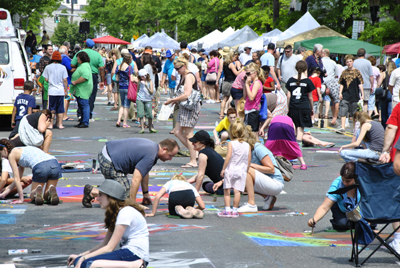 BECOME AN EXHIBITING ARTIST VENDOR!
At the 19th Annual Community Mosaic Street Painting Festival
Event Date: Sunday, May 24, 2015, 12 – 5 PM
Event Location: Presented by East End Arts in Downtown Riverhead, NY
Rain Date: Monday, May 25, 2 – 5 PM
5,000 visitors are expected to attend this popular community event.
East End Arts invites professional artists and craftspeople to submit photos of their work for consideration for the fine arts and crafts sale held outdoors. Arts and crafts that are priced for a family event are recommended. We also encourage artisans of homemade goods such as soaps, potpourri, jams, etc. to display and sell their wares.
DETAILS
- Artists and artisans may reserve a 10' x 10' space for $50 for EEA members or $150 for non-members. Membership with East End Arts is an annual program and provides discounts and special offers throughout the year. Click here for more info on membership >>
- Display setup, which begins at 9:00 AM, and removing the artwork (no earlier than 5:00 PM), will be the responsibility of the artists.
- Pop up tents, tables and chairs will not be provided.
- All sales transactions are between the artist and purchaser and the artists are responsible for sales-tax permits.
- There are no commissions taken by East End Arts on sales of artwork and crafts.
- This event will take place along East Main Street and on the grounds of East End Arts.
SUBMIT YOUR APPLICATION
SPECIAL OFFER: Sign up on or before March 31, 2015 and your name and link to your website will be listed on our event webpage, as well as on our promotional flier distributed to over 3,000 businesses and individuals.
Deadline for inclusion without website and flier recognition is May 15, 2015.
To apply, download PDF application below, and submit application and photos of your work to East End Arts:
- By mail: East End Arts, Attn: 2015 Community Mosaic Vendor Artists, 133 E. Main Street, Riverhead NY 11901
- By email to agomberg@eastendarts.org"> agomberg@eastendarts.org with subject "2015 CM Vendor Artist".
Returning artists are not required to submit work samples. Payment will not be processed and will be returned in full if your work is not accepted for participation.