JumpstART, an evening of free public arts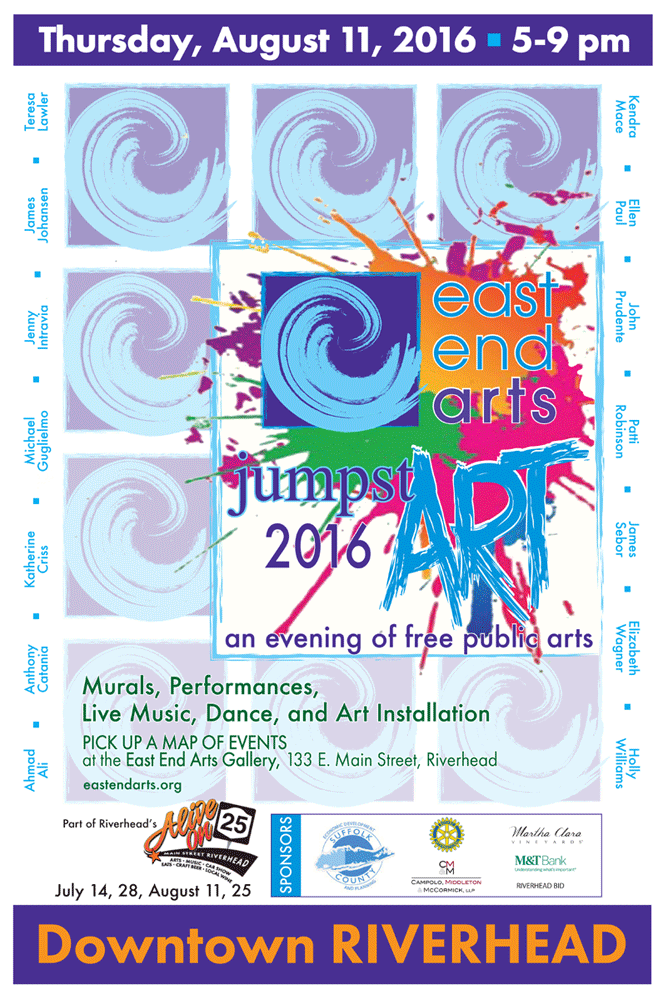 An evening of free public arts: murals, performances, live music, dance, art installation
Arts take center stage in Downtown Riverhead as East End Arts JumpstART artists unveil their public arts projects created during six months of professional development study. Experience JumpstART public art projects from 5 – 9 PM throughout Downtown Riverhead! Installations can be visited throughout the evening, with some having specific activities at specific times which is noted. All activities are FREE!
Pick-up a map of events at the East End Arts Gallery, 133 E. Main Street, Riverhead NY
OR CLICK HERE to download the map >>
CLICK HERE to meet the artists and learn more >>


STAY CONNECTED! When posting about this event on Facebook, Twitter or Instagram, don't forget to tag us! @EastEndArts
#eearts #eastendarts #EEAjumpstART #iloveriverhead


SPONSORED BY
Suffolk County Economic Development
Riverhead Rotary
Campolo, Middleton & McCormick, LLP
Martha Clara Vineyards
M&T Bank
Riverhead Business Improvement District


CLICK HERE for more information on the JumpstART artist professional development program >>