East End Appraisal Day
Register Today!
Online registration in advance until Friday, October 11, 5:00 PM. Attendees can also register at the door the day of the event. <i>$20 entry fee for first appraised item. $10 fee for each additional item will be taken at the door the day of the event.</i>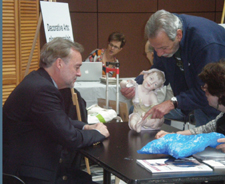 Dust off your treasures for East End Arts' Appraisal Day!
Bring in your favorite family heirlooms for an appraisal by Heritage Auctions of New York, Dallas, Beverly Hills, Paris, and Geneva! Heritage Auctions' experienced specialists appear frequently on the hit PBS series "Antiques Roadshow" and provide unmatched personal service. Participants are encouraged to bring a wide range of items for appraisal.
Items can be appraised in a variety of categories:
Collectibles • Coins • Fine Art • Photographs • Jewelry • Decorative Art • Silver • Memorabilia
NO Weapons or Stamps
Photos of larger items can also be appraised.
Heritage Auctions is a renowned venue for auction, private sale, and appraisal, with auction exhibitions in-house and online. Items that are appraised at this event as valuable and are eligible to go to auction can be given to Heritage Auction on the day of event. A commission of the sale will be given to the seller of the item after the auction is complete.
TICKETS: $20 for the first item | $10 for each additional item
Register in advance or at the door the day of the event.
Parking options include:
-- free valet, attendants in the circle in front of the Aquarium
-- parking lot one block north of the Hyatt on Ostrander Avenue for $8 which provides shuttle service back to the Sea Star building
-- free parking in area municipal lots
Hosted by East End Arts
Co-Sponsored by Heritage Auctions, New York, NY • www.ha.com
All proceeds from this event benefit East End Arts. Special thank you to Heritage Auction for donating their appraisal services.