DEADLINE to Apply: ALL FIRED UP ON MAIN! Fire Hydrant Artwork Contest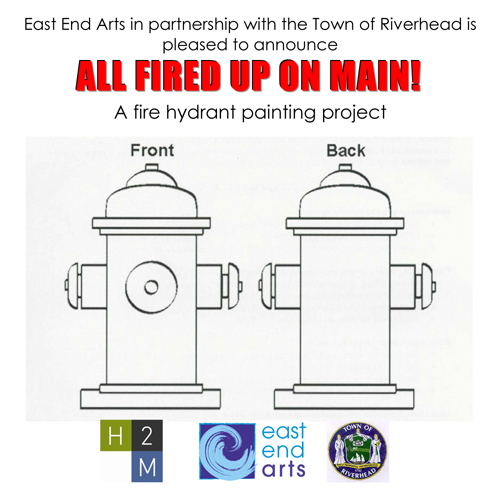 East End Arts in partnership with the Town of Riverhead is pleased to announce ALL FIRED UP ON MAIN!
A Fire Hydrant Painting Project
East End Arts in collaboration with the Town of Riverhead is pleased to invite artists to submit proposals for the design on existing Main Street fire hydrants. There are 10 identified hydrants located on Main Street in Riverhead, NY between Maple Street and Griffing Avenue.
The goal of this program is to embrace the artistic talents of local individuals while displaying creative artwork throughout the community. There is no specific theme for this program, though designs must be suitable for public viewing. A brochure will be produced identifying artists and location of their work.
There is no cost to submit your hydrant artwork. All paint and supplies will be provided. A $100 stipend will be provided for winning designs, at project completion.
* CLICK HERE TO DOWNLOAD APPLICATION * >>
PROGRAM DETAILS
How can I participate in this program?
• Fill out the application/design proposal (page 2 of PDF form)
• Fill out the waiver (page 3 of PDF form)
• Submit the required forms along with a brief artist bio no later than September 8, 2014 to East End Arts, Attn: 2014 Fire Hydrant Contest, 133 E. Main Street, Riverhead, NY 11901
Timeline for Hydrant Painting
• Deadline for submitting design proposal: September 8, 2014
• Notification of acceptance of design: September 15, 2014
• Painting required to be completed: October 10, 2014
• Awards ceremony at Riverhead Country Fair: October 12, 2014
• Meet the Artists at Edgar Allen Poe Festival: October 31, 2014
What is prohibited on the hydrants?
• Inappropriate words, advertisements, political messages, etc.
• Glued or attached objects
• Camouflage or designs that significantly reduce hydrant visibility
• Black paint covering more than 20% of the overall hydrant
For questions about the ALL FIRED UP ON MAIN! Program, contact East End Arts at 631-727-0900
This project is being supported through the generosity of H2M Architects & Engineers.