DEADLINE for Teen Musicians to Apply: Music Masters Mentorship Program with BAKITHI KUMALO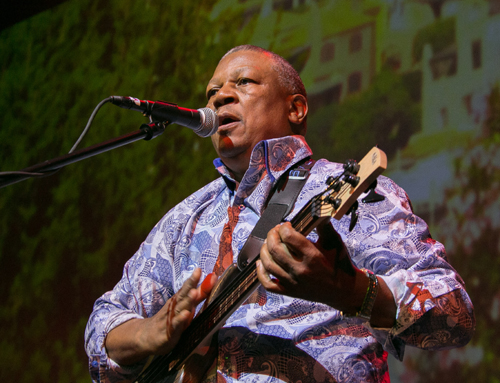 Calling all high school student musicians!
Apply to participate in the Music Masters Mentorship Program (Winter 2017)
Intensive full-scholarship six-week program for teen musicians with Bassist BAKITHI KUMALO, bassist for Paul Simon
Application Deadline (including sample recording): Sunday, December 4, 2016
East End Arts is now accepting applications for an intensive six-week workshop opportunity, the 2017 Music Masters Mentorship Program, which will be led by internationally celebrated artist, Bakithi Kumalo. High school musicians (ages 14-18) with exceptional musical ability and a passion for music are encouraged to apply for this rigorous workshop. Students can expect to be immersed in a variety of music styles while learning skills in rhythm, balance and sensitivity in listening to each other. Three hour weekly rehearsals strengthen student abilities and prepare them for their finale concert in a professional venue. Applications are open to a variety of instruments: bass, keyboard, drums, guitar, sax, and trumpet AND vocalists. An online application form and performance sample are required for submission. There are no fees to apply or participate.
Bakithi Kumalo is a South African bassist, composer and vocalist who has worked with a wide variety of diverse artists including Gloria Estefan, Herbie Hancock, Chaka Khan, Harry Belafonte, Cyndi Lauper, and Paul Simon. He has been active as well as a solo artist, with four albums to his credit – 1998's San'Bonan, 2000's In Front of My Eyes, 2008's Transmigration, and 2011's Change – as well as three award-winning children's albums recorded with his wife, vocalist Robbi Kumalo. Kumalo's bass-playing history began in Soweto where he grew up surrounded by music. "I picked up the bass early and realized I could follow the groove of a tune with it. I could play the bass lines from a cappella music, and I learned how to develop lines based on the left-hand work of accordion players in the township bands."
To apply, students must complete an online application form (link below) and submit a recorded performance sample. The deadline to submit applications is Sunday, December 4, 2016.
There are no fees for participation in the Music Masters Fellowship Program. This full scholarship, tuition-free fellowship program allows select students to participate in an ensemble of talent, under the guidance of a music industry professional.
CALENDAR
• Application Deadline: Sunday, December 4, 2016
• Acceptance Notification: Friday, December 16, 2016
• Workshop/Rehearsal Dates: January through February 2017. Rehearsals held at the East End Arts School Carriage House, 141 E. Main Street in Riverhead, NY.
January 3 (Tues), 9 (Mon), 17 (Tues), 23 (Mon), 30 (Mon), February 6 (Mon), 4:00 – 7:00 PM
• Final Concert Performance: Saturday, February 11, 2017 at 7:00 PM at Westhampton Beach Performing Arts Center, located at 76 Main St, Westhampton Beach, NY 11978 (student call time will be 4:00 PM)
ELIGIBILITY
• Long Island high school music students (Ages 14-18) studying bass, keyboard, drums, guitar, sax and trumpet
• Students will be expected to read music and should have some performance and/or ensemble experience.
• Students must be available for all workshops, as well as for the finale concert performance.
HOW TO APPLY
• Complete the online application form (link below).
• On the online application, upload only ONE MP3 or VIDEO file recording of approximately 3 minutes (no more than 1 GB) demonstrating the student's performance of a short selection of any repertoire of your choosing. (Label the recorded file as: MM2017_StudentLastName_age_INSTRUMENT)
Evaluation of the recording will focus on basic technical skills and the musicality of the performance. Home recorded selections including phone and computer recordings will be accepted. Recording quality will not be judged.
ACCEPTANCE NOTIFICATION
• All Applications must be submitted by Sunday, December 4, 2016, and will be reviewed and responded to by Friday, December 16, 2016.
East End Arts Music Masters Mentorship Program is sponsored by Olivia and Harlan Fischer.
For more info about the Music Masters Mentorship Program, click here >>
For more info about professional bassist Bakithi Kumalo, click here >>