EEA Invitational Exhibit at Southampton Cultural Center: ISLAND WINTERS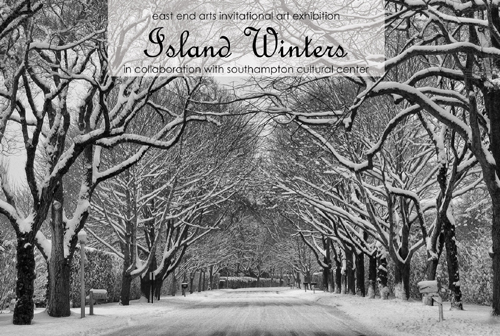 East End Arts Presents Invitational Art Exhibition
ISLAND WINTERS
An exhibition of the vision of five regional award-winning photographic artists:
Paul Dempsey ● Michael McLaughlin ● James Sabiston ● Steven Schreiber ● James Slezak
In Collaboration with Southampton Cultural Center
Curated by Steven Schreiber
Exhibition Dates: December 6, 2016 - February 12, 2017
Gallery visiting hours are Southampton Cultural Center hours:
Monday through Saturday, 11:00 AM to 2:30 PM
or by appointment: 631-287-4377
Artists' Reception: Friday, December 9, 2016, 5 - 7 PM
Meet the Artists! Join us at this free event - refreshments will be served.
Artists' Closing Reception: Friday, February 3, 2017, 5 - 7 PM
Meet the Artists! Join us at this free event - refreshments will be served.
To purchase artwork in this show, contact the East End Arts Gallery at 631-727-0900.
Artwork above: photograph by Paul Dempsey


More Information about the Artists
Paul Dempsey // Southampton
Photography Printed on High Grade Aluminum
Paul Dempsey, a computer programmer and Webmaster by trade, describes himself as a fine art photographer and a "digital manipulator." His keen vision captures ordinary details from daily life and transforms them into images of beauty and wit, filled with contrasting shapes and effects.
Paul's current series of abstract work focuses on macro images of nature combined with additional exposures of ice, snow, sand, and sky. These futuristic scenes, inspired by the writings of Kurt Vonnegut, offer a wry commentary on global warming and climate change. Paul's work is printed on a variety of substrates including metal, paper, and canvas. His photography has been displayed in galleries such as Ashawagh Hall, Southampton Cultural Center, Water Mill Museum, East End Arts, Southold Historical Museum, Remsenburg Academy, Quogue Library, and Guild Hall.
Paul has donated his time and images for fundraising for nature conservancy and animal rescue. He also currently serves as Vice President and Webmaster for the Southampton Artists Association.
hamptonsgateway.com/wp/wordpress
Michael McLaughlin // Riverhead
Pigment Ink Prints on Epson Hot Press Bright
Michael McLaughlin is a research analyst by trade who discovered the creative side of his brain after finding the East End of Long Island. He works in Manhattan but spends weekends (and every other spare minute) at a small cottage perched on top of a bluff in Riverhead, at the edge of the North Fork. A desire to capture and share the beauty of the Long Island Sound and the adjacent farmland is the reason he began taking pictures. Initially self-taught he developed his skills through course work at the International Center of Photography in New York City. His quantitative background in combination with a passion for modern and classical architecture has informed his approach to both composition and post-processing technique. His work has been shown on and around the East End and has been published in print and online.
mikemclaughlinphoto.com
James Sabiston // Bay Shore
Limited Edition Archival Photographic Prints
An award-winning, freelance artist based on Long Island, Jim Sabiston began his visual arts career as a painter, but with the advent of the digital camera, he left painting behind and committed himself to the art of photography. An inveterate explorer and experimenter by nature, Jim Sabiston produces work that does not lend itself to easy categorization. With a style rooted in a Zen influenced minimalistic realism, his style and subjects are almost infinitely varied to suit. Building on an original artistic foundation as a painter and an intimate study of photographic giants such as Stieglitz and Steichen, along with painters such as Andrew Wyeth, Jim Sabiston's work executes a marriage of photography and painting mediums into highly unique, print oriented series sets. Recent work has been oriented towards East End and Long Island subjects. Jim's photographs have received awards from National Geographic Explorer magazine, the Adirondack Mountain Club, the Islip Arts Council, the Sayville Chamber of Commerce, the Westhampton Beach Chamber of Commerce, Gallery North and most recently East End Arts. His work has been published in various books, magazines, and is part of many private collections.
Steven Schreiber // Flanders
Limited Edition Archival Pigment Photographic Prints on Epson Cold Press Bright
Steven Schreiber is an award-winning photographer who began capturing images with his digital camera in 2002. He soon found a personal approach to visual textures and colors that are the signature of his photographic creations. His goal is to create new visual perspectives to our normal every day visions through his experiences with his photography, and extensive design skills.
Using a unique processing technique Steven developed himself, he is able to bring an unusual and spectacular perspective to the subjects he focuses on for the images presented in this stunning black and white series. The warm and mystical veneer that washes over his photos imbue them with the subtle tones and textures his photography is known for.
Mr. Schreiber has exhibited his works at East End Arts, Alex Ferrone Photography Gallery, Ashawagh Hall, Guild Hall, Remsenburg Academy, The Southampton Cultural Center, Karen Mannix Contemporary Gallery, South Street Gallery, and The Lyceum Gallery, Emma S. Clarke Library.
He has won many awards including those from Guild Hall and Remsenburg Academy.Three of his images were selected from 700+ entries for the 5th annual National Exhibit 2016: "The Gallerist, The Artist, The Critic & The Kid" presented by East End Arts. One of his images was featured in the 4th Annual National East End Arts show The Figure, 2016, where his work was chosen from 730 worldwide entries.
Steven is a member of East End Arts, East End Photographers Group and is on the board for The American Society of Media Photographers, Long Island Chapter. He is also a supporter of East End Arts. Steven has an extensive background in design and is an honors graduate of Photographic Imaging at Suffolk County Community College 2013.
James Slezak // Hampton Bays
Digital Photographs
"I had wanted to engage in photography over 40 years ago but did not get around to starting until 2010. I am not trained in art and I have never taken a photography class. But I have tried to see much art and to read about it so that my photography is thereby informed. I am a user of tools and the use software and hardware comes to me easily. In graduate school I studied experimental psychology and think of myself as having a scientific outlook on most matters.
I could probably never create a painting or sculpture without basing it on something external. Indeed, I am not a painter or sculptor but I have found that I have some skill in selecting views of some aspects of the world around me and working with these to produce some compelling images.
For me the practice of photography is frequently a flow experience and I am very tuned in to my visual surroundings. Images that have a meditative quality are often the outcome. Some of my images freeze fleeting movements and shadows while other photos find the beauty in ordinary objects. Sometimes the final version of an image is quite a departure from what was caught originally on the camera sensor."
- James Slezak, photographer


For more information about the Southampton Cultural Center, please visit scc-arts.org >>