Bakithi Kumalo In Concert at Hotel Indigo East End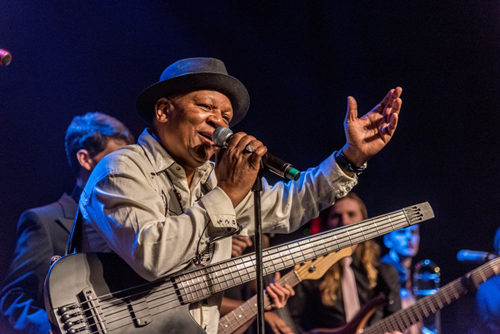 Don't miss Bakithi Kumalo in concert with special guests:
East End Arts Music Master Students
and Bill Smith on piano from "Mambo Loco"
On the Outdoor Patio at Hotel Indigo
Tickets: Just $15 (sold at the door)
All proceeds to benefit the East End Arts Music Masters Mentorship Program.

Bakithi Kumalo is a South African bassist, composer and vocalist who has worked with a wide variety of diverse artists including Gloria Estefan, Herbie Hancock, Chaka Khan, Harry Belafonte, Cyndi Lauper, and Paul Simon. He has been active as well as a solo artist, with four albums to his credit – 1998's San'Bonan, 2000's In Front of My Eyes, 2008's Transmigration, and 2011's Change – as well as three award-winning children's albums recorded with his wife, vocalist Robbi Kumalo. Kumalo's bass-playing history began in Soweto where he grew up surrounded by music. "I picked up the bass early and realized I could follow the groove of a tune with it. I could play the bass lines from a cappella music, and I learned how to develop lines based on the left-hand work of accordion players in the township bands."
Photos credit: Jim Lennon. From East End Arts Music Masters Concert at Westhampton Beach Performing Arts Center on February 11, 2017.