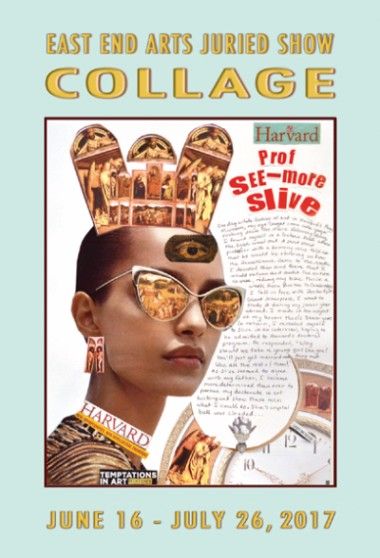 Juried, All Collage Media Art Show
Exhibition Dates: June 16 - July 26, 2017
Gallery Hours: Wednesday - Saturday, 10 AM - 4 PM
Guest Juror: Gail Levin, Distinguished Professor, Art History, City University of New York; Renowned Collage Artist; Authority on Edward Hopper's art & history

Today's collage is a beautiful and sophisticated art form balancing composition, color and content with personal style.

Reception: Friday, June 16, 2017, 5 - 7 PM
Meet the Artists! Refreshments served. Open to the public.
Photographs at the reception are taken by East End Arts' Working Artist member Natalia Clarke.
EEA Members receive 15% discount on all purchases.

ARTISTS: For info on entering your work into this show, click here >>
---
AWARDS
click images for more info
---
ABOUT THE JUROR
Gail Levin
Distinguished Professor, Art History, City University of New York;
Renowned Collage Artist; Authority on Edward Hopper's art & history
Juror for Collage, 2017
Gail Levin is Distinguished Professor of Art History, American Studies, and Women's Studies at The Graduate Center and Baruch College of the City University of New York. The acknowledged authority on the American realist painter Edward Hopper, she is author of many books and articles on this artist, including the catalogue raisonné and Edward Hopper: An Intimate Biography. She has also focused on the art of women artists in historical cultural context, which let to biographies of Judy Chicago (2007) and of Lee Krasner (2011), as well as a book in 2013, a comprehensive website, and a touring exhibition of the art of the supercentenarian Theresa Bernstein (1890-2002), which was the product of Levin's collaboration with several scholars including her doctoral students at the Graduate Center.
Her work on twentieth century and contemporary art has won international acclaim, been widely published, and translated across Europe, Asia, and Australia. Her articles cover a wide range - from the theory of artists' biographies to explorations of the intersection of American and Asian cultures. Among the most recent are "Syd Solomon: Concealed and Revealed" and "Threading Jewish Identity: The Sara Stern in Sonia Delaunay."
From October through January, she held a Distinguished Fulbright Chair in India, based in the South in Thiruvananthapuram, Kerala. Her Fulbright project, "American Art and India: Cultural Exchange Among Artists of India and the United States." Levin's work has been recognized by many grants from N.E.H., the Fulbright Association, the Smithsonian Institution, Rockefeller, Andrew Mellon, and Stonybrook Foundations, Brandeis, Harvard and Yale Universities, among many others. She has lectured internationally including for the U.S. State Department. Levin has also published and exhibited her photography, collages, and other art works. A show of her collage memoir, "On NOT Becoming An Artist," was shown in May 2014 at the National Association of Women Artists in New York City, and again in Santa Barbara, Santa Fe, and in the Berkshires.
---
LIST OF JUROR SELECTIONS FOR PARTICIPATION IN EXHIBIT
Sheri Berman, Dix Hills - "How High Will You Soar?" paper FIRST PLACE
Creighton Berry, Westhampton Beach - "A Street in the Bronx" water color collage
Creighton Berry, Westhampton Beach - "Good Bye Picasso 1" water color collage
Holly Black, Bayport - "DreamBox: A Vision of Genesis" 
Renee Blank, Holbrook - "Revealed Dream" encaustic collage
Gregory Bullick, East Quogue - "August" collage
Noel Ciolino, Westhampton - "Spring #1" mixed collage
Joyce Cohen, Quiogue - "Lunch with Thiebaud" cut paper
Reginald Fludd, Greenlawn - "Red Holiday" paper collage HONORABLE MENTION
Jim Gemake, Water Mill - "Triple A with (w)" mixed
Janet Gentile, Reading, MA - "Green Fish" crystalline paper & pieces of metal
Nina Gillman, Amangansett - "Untitled" collage
Sanford Hanauer, Jamesport - "Bookmarks" yarn fiber and torn corrugated
Rotraud Hansen, Ronkonkoma - "Pool Reflection"Eye See You"" Paper collage
Arline Hershberg, Port Jefferson - "#7" collage fabric
Marion Jones, Southold - "A Contented Heart" collage
Anna Jurinich, Wading River - "Unfinished Portrait" mixed collage HONORABLE MENTION
Julianna Kirk, Brookhaven - "Pink Quartet" collage
Joe Klaus, Smithpoint - "100%" mixed media
Sophia Kohler, Riverhead - "Sick of Art" collage HONORABLE MENTION
Sarah Lambert, Centereach - "Barron Claiborne's King of Ny Revisited" magazine collage
Teresa Lawler, East Hampton - "Little Study" mixed
Debbie Ma, Calverton - "Achromatopsia" collage
Elizabeth Malunowicz, Orient - "Broken Landscape" mixed
Mary Mattingly, Hampton Bays - "Conversations" oil & collage
Mary Mattingly, Hampton Bays - "Untitled" acrylic & collage
Celeste Mauro, Northport - "Come Fly With Me" watercolor/collage
Celeste Mauro, Northport - "Fanciful Flowers" acrylic/collage
Patricia McCarthy, South Jamesport - "Fish Story 2" mixed
Richard Mizdal, Greenport - "A Family" digistal collage
Lucinda Morrisey, Quogue - "Balance V" collage
Lesley Obrock, East Hampton - "How the Light gets in- Remembering L.C and J.T" mixed/hand printed
Scott O'Hare, Riverhead - "Origin of the Species" mixed HONORABLE MENTION
Steve Palumbo, Quogue - "Black & White Study" paper BEST IN SHOW
Steve Palumbo, Quogue - "Flamenco" paper
Heidi Rain, Sag Harbor - "Autumn Surprise" mixed
Patti Robinson, Westhampton Beach - "Imaginary Coney Island" collage
Patti Robinson, Westhampton Beach - "Little Edie" collage THIRD PLACE
Jerry Schwabe, East Hampton - "Uni" collage-uv-protection
Daphne Shuttleworth, Riverhead - "Shore Light" oil & silver leaf on paper
Thomas Stock, Babylon - "Gravity" collage
Cynthia Tanenbaum-Fox, Jamesport - "Self Portrait" collage and mono print
Mac Titmus, Coram - "Rock Bottom" digital
Peter Treiber Jr., Peconic - "Casual" collage HONORABLE MENTION
Mary Twomey, Greenport - "Temple" mixed/collage
Vicki Wojcik, Flanders - "Untiled 1" monotype papers on board
Amy Worth, Orient - "Emma & Oscar" paper collage SECOND PLACE
---
SPONSORED BY

Programs of the East End Arts Gallery are made possible with public funding provided by New York State Council of the Arts, Suffolk County, and the Town of Riverhead.