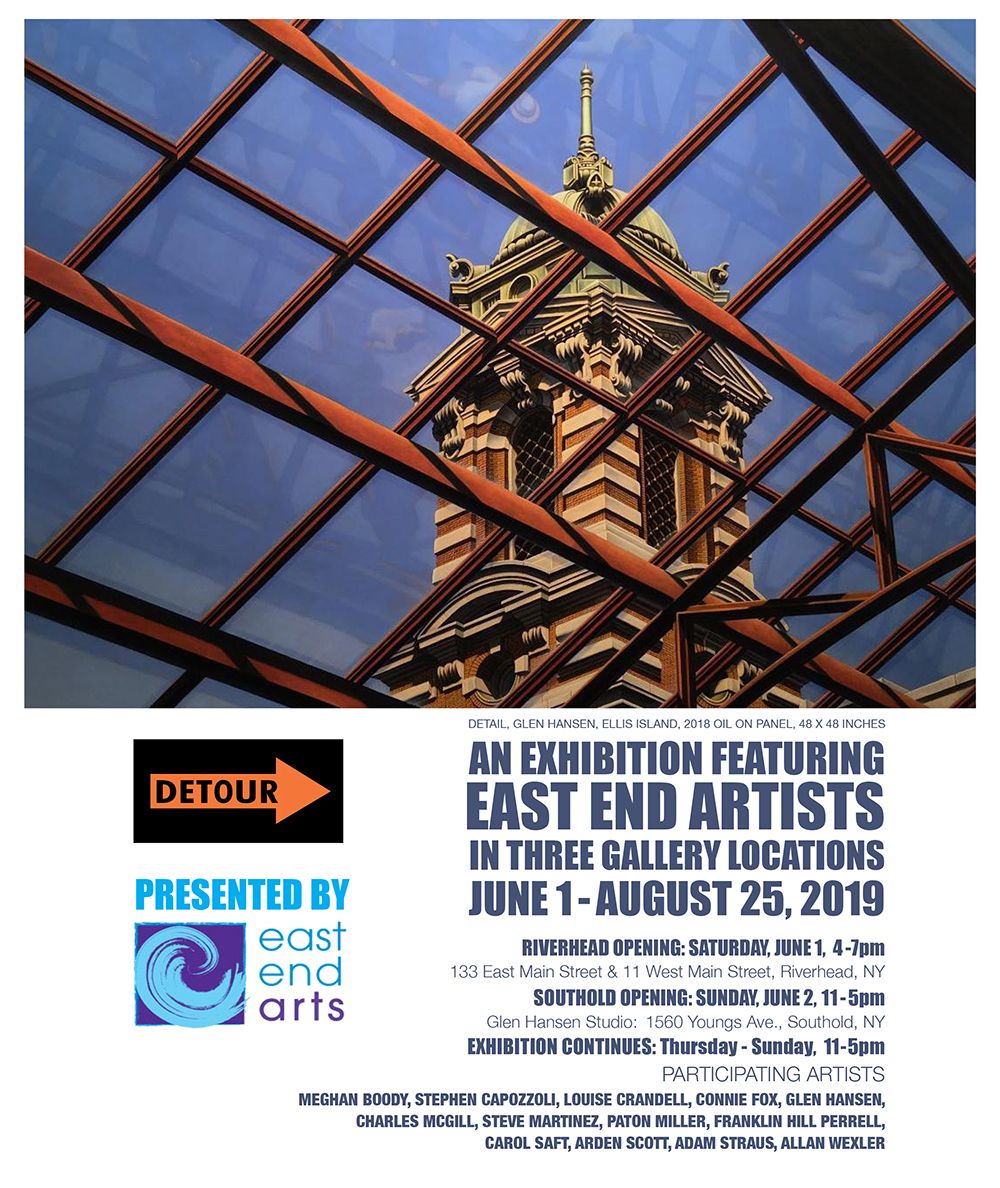 DETOUR is an exhibition showcasing the work of 13 of the many talented artists working on the East End of Long Island and the divergent forms, techniques, and routes they take to arrive at their unique work. It will be presented by the East End Arts Council from June 1 through August 25, 2019. Taking place in three locations, the exhibition is unprecedented in its scope on the North Fork of Long Island. DETOUR will feature painting, sculpture, and photographs at the East End Arts Galleries and at Glen Hansen Studio. Each of the artists will be shown at all three locations. The exhibition is curated by Glen Hansen with assistance from Adam Straus.
The 13 artists in the exhibition live full or part time on the East End of Long Island and are influenced in numerous and nuanced ways by the area. Many of these artists have established careers, exhibiting for decades in New York City as well as nationally and internationally and are in the collections of major museums, yet have been seen very little if at all in Riverhead.

Three locations:
June 1 - August 25, 2019
Hours: Thursdays - Sundays, 11:00 AM - 5:00 PM
click below image for directions
---
DETOUR Luncheon & Gallery Talk
Please join us on Saturday, August 24th at 1pm for the DETOUR Luncheon and Gallery Talk honoring the works of Louise Crandell, Connie Fox, and Arden Scott.

Join us for an informal tour of the DETOUR exhibition at 133 E. Main Street with Franklin Hill Perrell, former chief curator for the Nassau County Museum of Art.  Complimentary lunch will be served at 1:00PM, followed by a discussion moderated by Perrell with DETOUR artist Louise Crandell speaking about her work along with Joyce Beckenstein, art critic and writer. Joyce will talk about the work of Connie Fox and Arden Scott, both DETOUR artists who Beckenstein has known and written about for years. Amidst all of this, glimpses into the heart of art will most certainly be seen. 
Most of the DETOUR artists will be in attendance, including; Meghan Boody, Stephen Capozzoli, Glen Hansen, Paton Miller, & Allan Wexler.
This free event requires advance registration. Limited spaces available. Please click HERE to register.
---
DETOUR Closing Party
Sunday, August 25th 4 pm-7 pm
Please join East End Arts to celebrate the amazing DETOUR exhibition with a party certain to go down in the history books as an event not to be missed.
Fun will be had by all, and that is a requirement. Art will be discounted up to 20% with 30% of the proceeds going to benefit East End Arts.
Be there – and take a work of art home. Many of the artists will be present.
---
About the Artists
click artist's name for their bio and more info
 

Eager to see the show and coming from New York City? Grab a Rally to DETOUR you to Riverhead!
click here for more information and to sign-up >>

Rally brought to you by
---
To become a sponsor and for more information on sponsorship, contact East End Arts Executive Director Diane Burke: 631-727-0900 x304 or dburke@eastendarts.org
---
Programs of the East End Arts Gallery are made possible with public funding provided by New York State Council of the Arts, Suffolk County, and the Town of Riverhead.
---