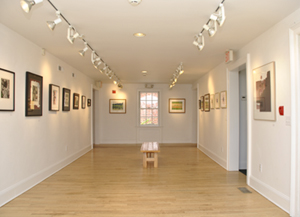 The Gallery at East End Arts has changing exhibits every four to six weeks. Year-round juried shows provide numerous opportunities for all media types to be exhibited. Through our Annual National Competition and Exhibit, we are pleased to provide artists, both local and national, the opportunity to exhibit in a nationally recognized show with judges of preeminent credentials. We host an Annual Members' Show which is non-juried and open to all East End Arts members. Every November and December, our galleries are transformed into a Holiday Gift Boutique, where we sell unique, handmade creations by East End Arts member-artists, perfect for holiday gift giving.
Members receive a 10% discount on all Gallery and Gift Shop purchases.
Stop in and see what's happening in our Gallery!
Gallery Hours: Tuesday - Saturday, 10:00 AM - 4:00 PM
CURRENT SHOW
UPCOMING SHOW
---
2018 Gallery Schedule
The distinctive way that an artist uses the elements and principles of design in their artwork.
For information about entering your artwork into our Gallery shows, click show titles in the menu in the left column
ELIZABETH RICHARD MEMORIAL ANNUAL MEMBERS' SHOW: FUN
Non-juried | All media
JANUARY 26 – MARCH 2
Reception: Friday, January 26, 5 - 7 PM
...........................
CANNABIS
Juried | All media
MARCH 9 – APRIL 20
Reception: Friday, March 9, 5 - 7 PM
Juror: Mary Cantone, owner/director William Ris Gallery, Jamesport, NY
...........................
HERE COMES THE SUN
Juried | All media
APRIL 27 – JUNE 8
Reception: Friday, April 27, 5 - 7 PM
Juror: Charles Riley II, book author, art critic, director of the Nassau County Museum of Art, Long Island, NY
...........................
RESCUE
Juried | All media
JUNE 15 – JULY 25
Reception: Friday, June 16, 5 - 7 PM
Juror: Debbie Ma, fine artist
...........................
7th ANNUAL NATIONAL COMPETITION & EXHIBIT:
INK
Juried | Two-dimensional art
AUGUST 3 – SEPTEMBER 19
Reception: Friday, August 3, 5 - 7 PM
Juror: Sara De Luca, Owner/Director, ILLE ARTS
...........................
EAST END ARTS SCHOOL FACULTY SHOWCASE ART EXHIBIT
&
ARTIST SHOWCASE EXHIBIT: STEVE PALUMBO & JIM SLEZAK
SEPTEMBER 28 – OCTOBER 27
Reception: Friday, September 28, 5 - 7 PM
...........................
HOLIDAY GIFT BOUTIQUE
NOVEMBER 10 – DECEMBER 22
Grand Opening: Saturday, November 10
Programs of the East End Arts Gallery are made possible with public funding provided by New York State Council of the Arts, Suffolk County, and the Town of Riverhead.