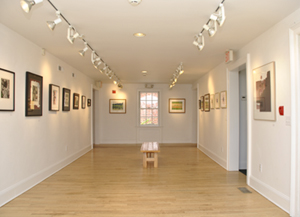 The Gallery at East End Arts has changing exhibits every four to six weeks. Year-round juried shows provide numerous opportunities for all media types to be exhibited. Through our Annual National Competition and Exhibit, we are pleased to provide artists, both local and national, the opportunity to exhibit in a nationally recognized show with judges of preeminent credentials. We host an Annual Members' Show which is non-juried and open to all East End Arts members. Every November and December, our galleries are transformed into a Holiday Gift Boutique, where we sell unique, handmade creations by East End Arts member-artists, perfect for holiday gift giving.
Members receive a 10% discount on all Gallery and Gift Shop purchases.
Stop in and see what's happening in our Gallery!
Gallery Hours for November & December 2018:
Fridays 12:00 - 5:00 PM
Saturday 10:00 AM - 5:00 PM
UPCOMING SHOW
---
2019 Gallery Schedule
For information about entering your artwork into our Gallery shows, click show titles in the menu in the left column
ELIZABETH RICHARD MEMORIAL ANNUAL EAST END ARTS MEMBERS' SHOW: 
FABULOUS FAKES
Non-juried | All media
MARCH 8 – APRIL 19, 2019
Reception: Friday, March 8, 5:00 - 7:00 PM  
Every artist knows 'forgery' is the sincerest form of flattery and a brilliant way to study your chosen medium.
Entries can be:
• A copy (in which case you need to acknowledge original artist and title in your title).
• A re-interpretation of a famous artwork, for example, Van Gogh's Chair with a pair of socks on it, or Michelangelo's Statue of David reduced to abstract planes,
• An image, sculpture or photo 'in the style of' meaning a famous artist has been a major inspiration in the creation of your entry. (Please acknowledge in your title "in the style of… Ansel Adams, Matisse, Brancusi" etc.)
Drop-off entries in person: Thursday, February 28 (10 AM - 4 PM); Friday, March 1 (10 AM - 4 PM); Saturday, March 2 (10 AM - 3 PM)
Size restriction 14" wide (including frame). Height can be up to 40".
To make your 'Fakes' irresistible to collectors we recommend you keep your sale price under $500.
Please view complete prospectus including all entry information >> eastendarts.org/gallery/members-show-2019.html

...........................

COLOR
Juried | All media
APRIL 26 – JUNE 7, 2019
Reception: Friday, April 26, 5:00 - 7:00 PM  
Juror: Jamie Forbes, Owner/Director of Jamie Forbes Gallery in Center Moriches, NY; Creator/Editor of Fine Art Magazine
For this competition artists of all media's masterful use of color will be the strongest consideration in choosing art to be included in the exhibit.
Size restriction 30" wide x 40" high (including frame).
Digital entry information will be available soon.
Deadline for entries: Wednesday, February 20, 2019, 1:00 PM EST
Winners announced on or before March 27, 2019.  
Drop-off / carrier deliveries of accepted art must arrive Monday, April 22, 2019.  

...........................

Future show information will be announced soon!
Programs of the East End Arts Gallery are made possible with public funding provided by New York State Council of the Arts, Suffolk County, and the Town of Riverhead.