OPEN HOUSE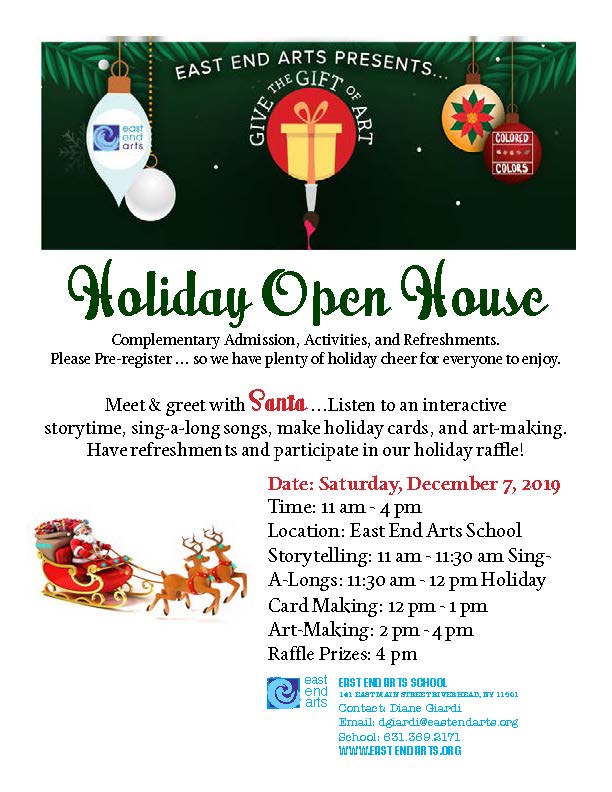 Please join us for a meet & greet with Santa at East End Arts' Annual School Open House!
Refreshments and Activities Provided at No Cost!
 
December 7, 2019
11 a.m. - 4 p.m.
Pre-registration recommended. Please click on the register link below. 

Meet & greet with Santa, listen to an interactive storytime, sing sing-a-long songs, make Holiday cards, have refreshments, and participate in a holiday ticket raffle! Attendance is FREE. Pre-registration is recommended. Please click the follow link to pre-register for this Free event.
---
Schedule of Activities
Storytelling
11 a.m. - 11:30 a.m.
Sing-A-Longs
11:30 a.m. - 12 p.m.
Holiday Card-making
12 p.m. - 1 p.m.
Art-making in the School House
2 p.m. - 4 p.m.
Meet & Greet with Santa from 11 a.m. - 4 p.m.
Raffle Tickets will be Sold for Baskets Raffled off During the Event 
All Proceeds will go to the East End Arts School Scholarship Fund