Join us!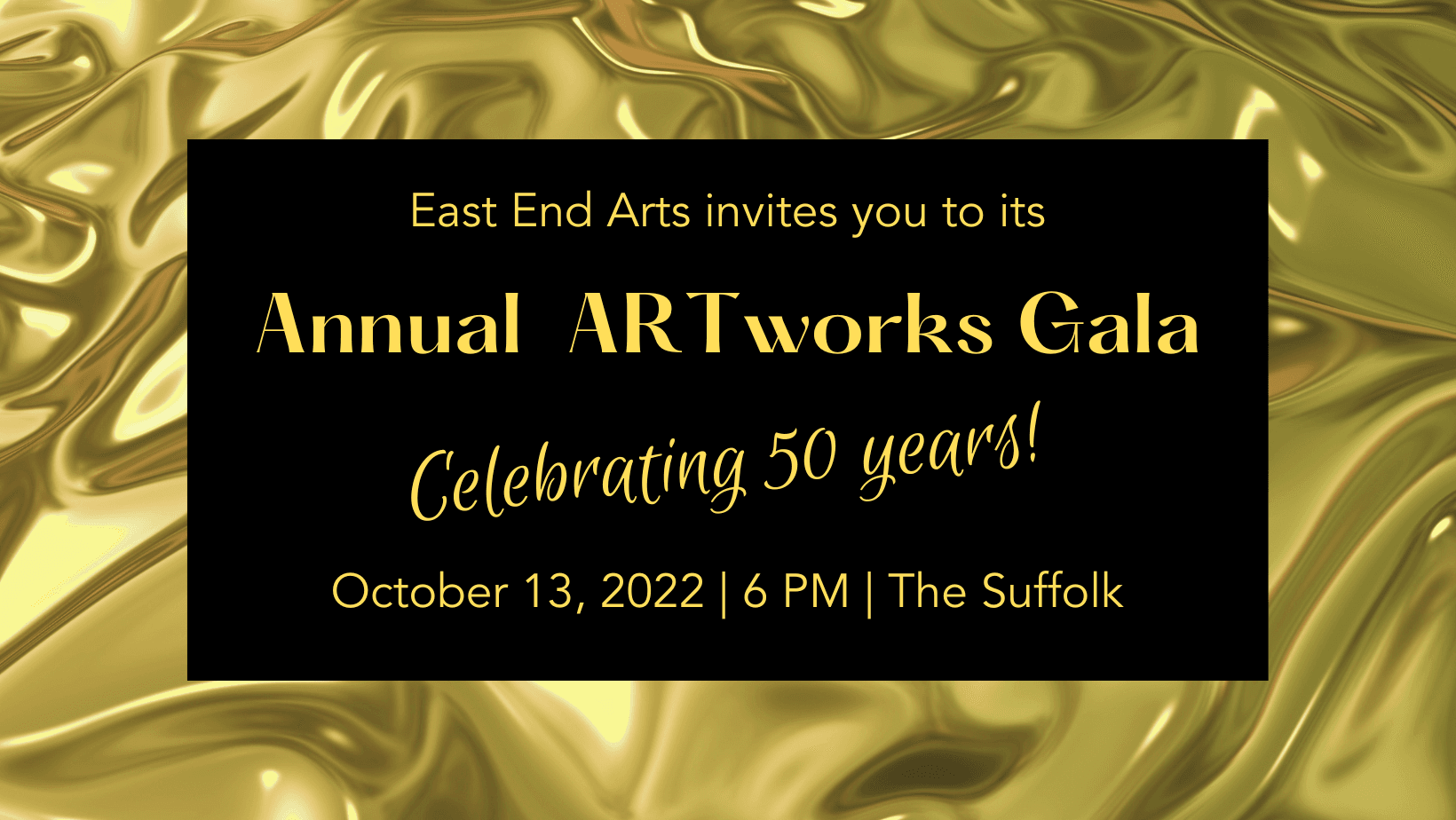 Since 1972, East End Arts has aspired to "Unlock Creativity" and "Build Community" throughout the east end of Long island. For half a century, we ensured that everyone—regardless of means or ability— was afforded the opportunity to tap their inner musician or artist. As we prepare for the next 50 years, we invite you to join us at The Suffolk as we honor RXR's Rebecca D'Eloia, Studio A/B's Glynis Berry and Hideaki Ariizumi, the Artful Circle's Franklin Hill Perrell, and the Franchina Law Group's Emily Franchina with a celebratory evening of cocktails, substantial hors d'oeuvres, live music, dancing, a live and silent auction, and more! 
All proceeds from the evening directly benefit East End Arts in its efforts to celebrate artists and art lovers throughout the community.
Tickets start at $250 with additional sponsorship levels available. 
For more information, please e-mail Paul A. Johnson or call 631.248.0372.
---
About Glynis Berry and Hideaki Ariizumi (Excellence in the Arts Award Recipients)
Glynis is a LEED Accredited Professional capable of guiding projects through a green agenda and their registration with the U.S. Green Building Council. She is the director of Peconic Green Growth, a non-profit organization, focusing on sustainability, community and the arts.   At Ariizumi Berry, Glynis acts as manager for pedestrian, transportation, institutional and art-related projects. She established art sites, a gallery in Riverhead, NY in 2000.
Originally from Tokyo, Hideaki, the lead architect of Ariizumi Berry, has designed award winning projects on two continents including as an associate/project manager with Steven Holl Architects, New York, and previously as the senior architect with the Avant Garde Kazuo Shinohara Atelier, Japan.     
Their work has appeared in many publications including: Architectural Digest, The New York Times and The New American House and has been televised on Travel Channel's program 'Amazing Vacation Homes'.  They have received awards from The Society of American Registered Architects, the American Institute of Architects, The New York Council and Space Design (SD) Review amongst others.
About Franklin Hill Perrell (Excellence in the Arts Award Recipient)
As former Chief Curator at the Nassau County Museum of Art in Long Island, Franklin Hill Perrell has a finely tuned background in art history through the ages right through to contemporary art. His longtime connections with gallerists and artists enable us to bring our members behind the scenes on our visits. His passion for art is always evident through his lectures with his uniquely charming, yet approachable manner. Perrell is a graduate of Hofstra University and a talented painter and writer. He currently serves on the Board of Trustees of the Heckscher Museum in Huntington and the Bermuda National Gallery.
East End Arts would like to thank the generous sponsors of this year's ARTworks Gala.
HEADLINER
MASTER ARTIST
PRODUCER
DIRECTORS
OPENING ACT