Join us!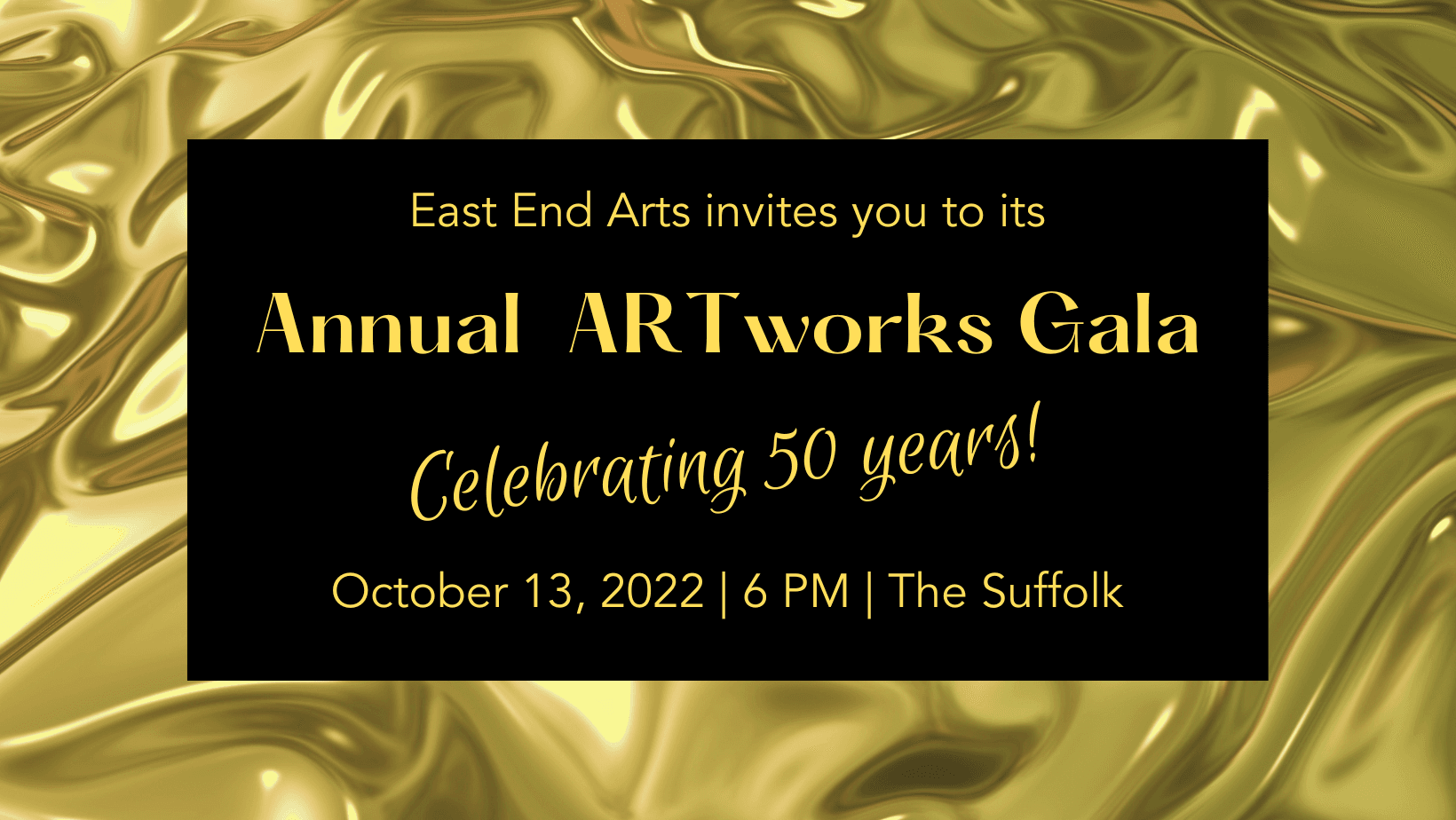 Since 1972, East End Arts has aspired to "Unlock Creativity" and "Build Community" throughout the east end of Long island. For half a century, we ensured that everyone—regardless of means or ability— was afforded the opportunity to tap their inner musician or artist. As we prepare for the next 50 years, we invite you to join us at The Suffolk as we honor RXR's Rebecca D'Eloia, Studio A/B's Glynis Berry and Hideaki Ariizumi, the Artful Circle's Franklin Hill Perrell, and the Franchina Law Group's Emily Franchina with a celebratory evening of cocktails, substantial hors d'oeuvres, live music, dancing, a live and silent auction, and more! 
All proceeds from the evening directly benefit East End Arts in its efforts to celebrate artists and art lovers throughout the community.
Tickets start at $250 with additional sponsorship levels available. 
For more information, please e-mail Paul A. Johnson or call 631.248.0372.
---
About Rebecca D'Eloia (Community Impact Award Recipient)
Rebecca D'Eloia is a real estate development executive with 24 years of experience in large-scale, public/private redevelopment projects primarily in the metropolitan region. As a Senior Vice President of Development at RXR, she leads development activities across multiple asset classes within the company's ground-up portfolio. Her project experience includes complex, multi-phased master plans such as the Innovation District at Nassau Hub, the 72-acre site surrounding Nassau Veterans Memorial Coliseum;  Garvies Point, a $1B+, 1,100-unit mixed-use redevelopment project which is reclaiming a 56-acre former industrial site along the waterfront in Glen Cove; a 1,000 acre, mixed use greenfield outside the Research Triangle Park region of North Carolina; and the redevelopment of Long Island University's Downtown Brooklyn campus.  Prior to joining RXR, Rebecca was Senior Vice Present at Forest City Realty Trust, focusing on the entitlements and development of Pacific Park (Atlantic Yards) in Brooklyn, and the design and construction of Barclays Center, home of the NBA's Brooklyn Nets.  She also led the $160M renovation of the Nassau Veterans Memorial Coliseum in Nassau County.  Prior to Forest City, Rebecca was part of the team leading the redevelopment of Lincoln Center for the Performing Arts, a $1.2 B reconstruction of the campus housing eleven world-renowned performing arts organizations, including the New York Philharmonic, the Juilliard School and the Metropolitan Opera.  Rebecca began her career at the New York City Department of Parks and Recreation, where she oversaw revenue contracts and licenses for the agency.  A graduate of Cornell University's School of Industrial and Labor Relations, Rebecca resides in Huntington, Long Island with her husband and 2 children.   
About Glynis Berry and Hideaki Ariizumi (Excellence in the Arts Award Recipients)
Glynis is a LEED Accredited Professional capable of guiding projects through a green agenda and their registration with the U.S. Green Building Council. She is the director of Peconic Green Growth, a non-profit organization, focusing on sustainability, community and the arts.  At Ariizumi Berry, Glynis acts as manager for pedestrian, transportation, institutional and art-related projects. She established art sites, a gallery in Riverhead, NY in 2000.
Originally from Tokyo, Hideaki, the lead architect of Ariizumi Berry, has designed award winning projects on two continents including as an associate/project manager with Steven Holl Architects, New York, and previously as the senior architect with the Avant Garde Kazuo Shinohara Atelier, Japan.     
Their work has appeared in many publications including: Architectural Digest, The New York Times and The New American House and has been televised on Travel Channel's program 'Amazing Vacation Homes'.  They have received awards from The Society of American Registered Architects, the American Institute of Architects, The New York Council and Space Design (SD) Review amongst others.
About Franklin Hill Perrell & Emily Franchina (Excellence in the Arts Award Recipient)
As former Chief Curator at the Nassau County Museum of Art in Long Island, Franklin Hill Perrell has a finely tuned background in art history through the ages right through to contemporary art. His longtime connections with gallerists and artists enable us to bring our members behind the scenes on our visits. His passion for art is always evident through his lectures with his uniquely charming, yet approachable manner. Perrell is a graduate of Hofstra University and a talented painter and writer. He currently serves on the Board of Trustees of the Heckscher Museum in Huntington and the Bermuda National Gallery.
Emily Franchina incorporates her 30 years of experience with seniors and their families into a solution based elder law practice..  A graduate from the Maurice A. Deane School of Law at Hofstra University, she is an AV rated attorney and for the last 9 years has been named a New York Super Lawyer in Elder Law.
As a result of her various leadership positions with the Nassau County Bar Association, she was elected to the Executive Committee.  In 2009, she became the 5th female President in the Association's 107 year history.  Her honor by the Association's WE CARE fund for distinguished service was an acknowledgment of her tireless work on behalf of the association's charitable foundation.
Emily has always focused her efforts on outreach and caring for the community.  As a result, she was President of the Mineola-Garden City Rotary, serves on the Advisory Board of St. Johnland Nursing Facility as well as the Long Island Alzheimer's Foundation.  For over 17 years, she focused her energy on the New  York Bar Foundation serving on the Executive Board and then as Chair of the Foundation Fellows for 5 years.
Acknowledgment of her efforts were made by a number of organizations over the years.  Notably, she received the Juliette Low Award of Distinction from the Girl Scouts of Nassau County, the Outstanding Women in Law honor from Hofstra Law, and was named three times as one of Long Island's most influential women.
East End Arts would like to thank the generous sponsors of this year's ARTworks Gala.
HEADLINER
MASTER ARTIST
PRODUCER
DIRECTORS
OPENING ACT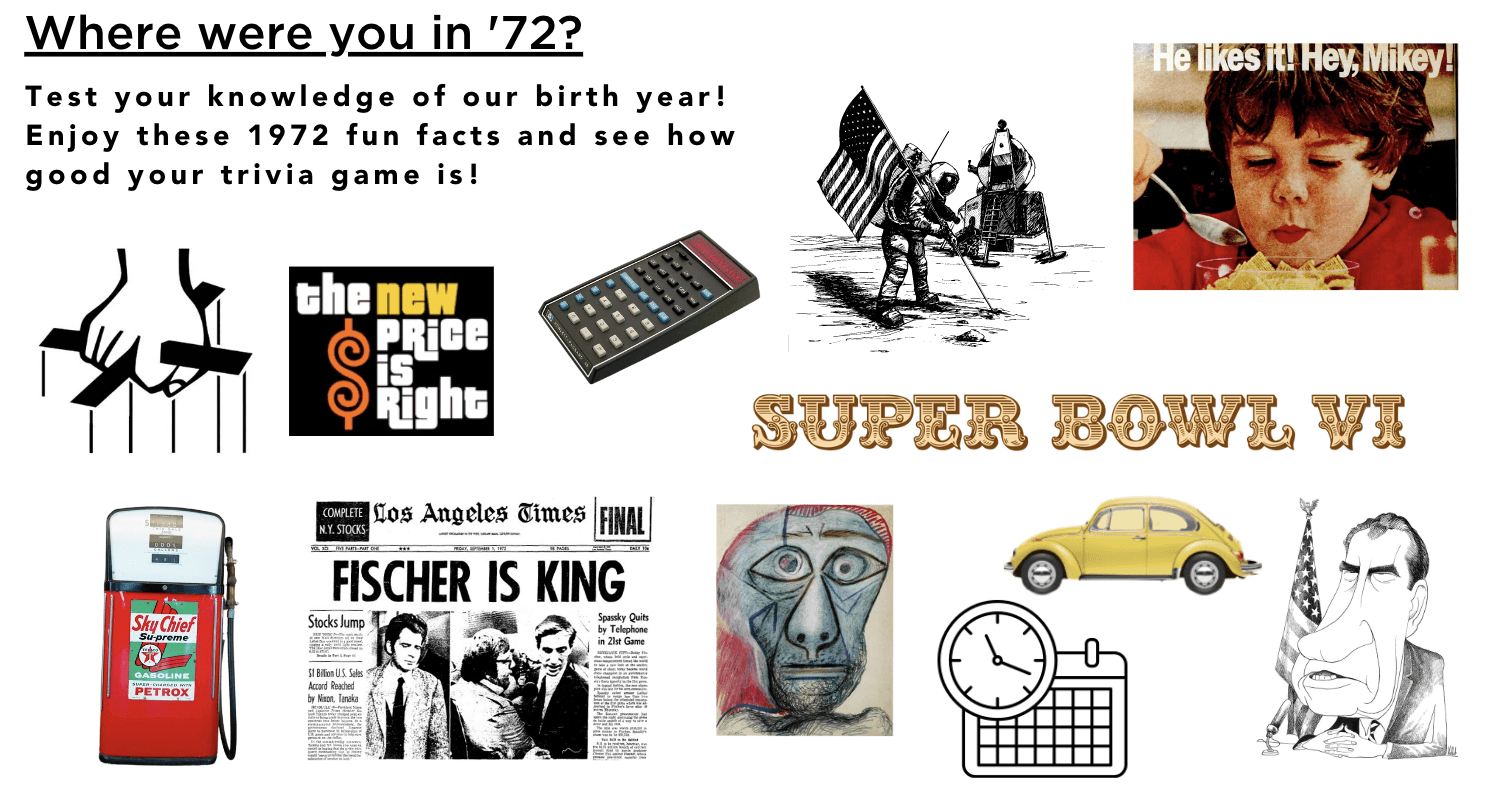 1972 Fun Facts:
The Godfather is the top selling movie of the year. (It also wins the 1973 Best Picture Academy Award.)

The New Price is Right hosted by Bob Barker premieres on CBS.

The HP-35 Scientific Calculator is introduced as the world's first handheld scientific calculator and HP's first product that contained both integrated circuits and LEDs.

NASA's Apollo 17 mission marks the last time man was on the moon.

Life Cereal's clever commercial and simple advertising jingle "He likes it! Hey, Mikey!" goes old school viral.

Dallas Cowboys defeat the Miami Dolphins 24-3 in the Super Bowl.

A gallon of gas cost an average of $0.55.

Bobby Fischer defeats Boris Spassky to become the first American chess champion.

Pablo Picasso paints his last self portrait.

Thanks to the inclusion of a leap day and 2 leap seconds, it's the longest year in history.

The VW Bug surpasses the Ford Model T as the world's best selling car.

The Watergate scandal erupts in June and eventually leads to President Nixon stepping down from office in 1974.