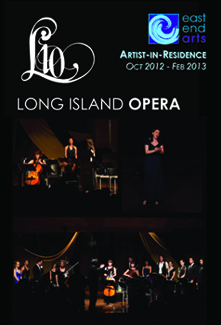 Long Island Opera
October - December 2012
Long Island Opera (LIO), the Island's oldest opera company, has brought a notable blend of opera performance and opera education to Nassau and Suffolk communities for more than fifty years. From its beginnings in an adult education course in 1958, LIO has engaged, entertained, and educated audiences all across Long Island, in concert halls, outdoor performance spaces, at libraries, schools, and community centers. The 2012-13 season marks a renaissance for LIO. Led by music director Fabio Bezuti and executive director Joy Berta, LIO's season has included two fully staged operas of Carmen, Rigoletto, and a scheduled concert of La Bohème highlights, April 2013.
The centerpiece of LIO's education efforts is this residency at East End Arts, the first time an arts organization has been chosen for residency. LIO's performing and teaching artists will offer workshops in opera history, performance, and craft. Combining presentation, discussion, and performance, these workshops will take participants behind the scenes for an up-close discovery of the unique world of opera.
Opera Weekend Programs
Below are the "Opera Weekend" programs that the Long Island Opera will be presenting during their residency:
OCTOBER 2012 EEA Opera Weekend
HISTORY OF OPERA: Friday, October 12, 7:00-8:00PM
Cost: $10
This workshop will provide the audience a better understanding and background of this amazing art form.
COMPOSITION: Saturday, October 13, 2:00-4:00PM
Cost: $20 EEA members / $30 nonmembers
A LIO teaching artist will discuss in detail methods of music composition.


NOVEMBER 2012 EEA Opera Weekend
MOVEMENT IN OPERA: Friday, November 9, 6:00-8:00PM
Cost: $20 EEA members / $30 nonmembers
A LIO artist will describe and demonstrate various techniques to warm up, relax, and prepare the body and the voice for optimal performance.
ACTING IN OPERA: Saturday, November 10, 1:00-4:00PM
Cost: $30 EEA members / $45 nonmembers
This workshop demonstrates acting and performance techniques -- from quiet emotion to stage combat -- that help the opera singer bring a character to life for the audience.


DECEMBER 2012 EEA Opera Weekend
MASTERS OF OPERA: Friday, December 7 (First Friday), 6:30-8:00PM
Cost: FREE
In an illustrated musical tour, Long Island Opera introduces the artists whose talents contribute to this unique and enduring art form. The Composer: from Handel and Mozart to Puccini; The Conductor: from Toscanini to Muti; The Performer: from Muzio and Caruso to Bjorling and Tebaldi. Vintage costumes and opera memorabilia will be on display. Q & A following the presentation.
MASTERY OF VOICE: Saturday, December 8 1:00-3:00PM
Cost: $20 EEA members / $30 nonmembers
In this workshop, a LIO teaching artist will explain and demonstrate techniques of breathing, posture, and articulation, and the mechanics of the voice that give operatic voices such astonishing agility, range, stamina, and control.