Virtual Theatre Class for Beginners (AGES 5 - 11)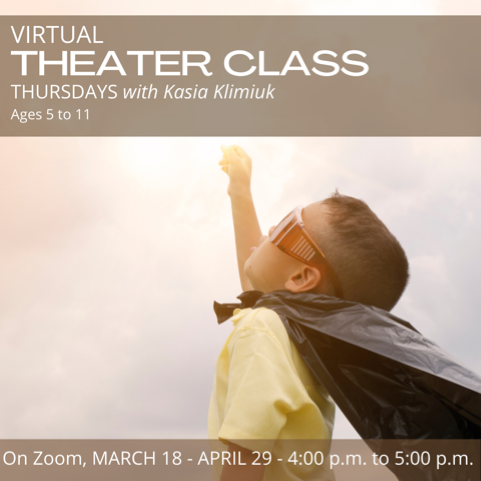 Virtual Theatre Class
for Beginners (Ages 5 to 11)
with Kasia Klimiuk
In this Zoom based theatre classes, students ages 5 to 11, learn basic acting skills and how to use their bodies in creative ways through the use of movement, music, and imaginary adventures. This 6-week workshop focuses on developing social and socio-emotional skills such as communication, collaboration, social awareness, and decision-making skills while learning the fundamentals of theater.
Virtual Zoom Classes:
Thursdays, 4:00-5:00pm (six sessions)
March 18, 25, (Closed April 1), April 8, 15, 22, & 29
Cost:
Members: $120.00
Non-members: $168.00
Zoom link will be shared once you register.