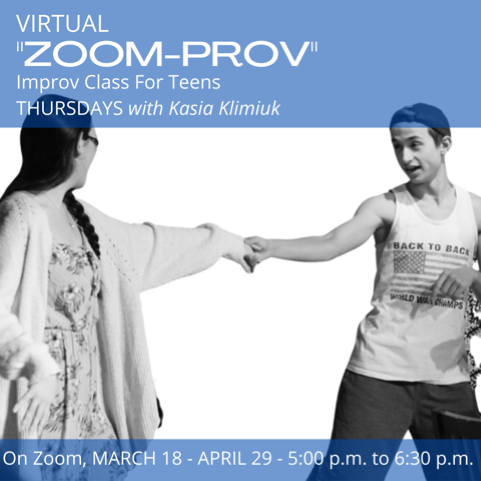 "Zoom-Prov"
Improv Class for Teens (Ages 12-18)
with Kasia Klimiuk
Participants learn and develop their acting and performance skills as well as the value improvisation brings to each performance. Through fun theater games and activities, students explore the actor's toolkit using their voice and body; they learn foundational improvisation skills; and express themselves in creative ways on Zoom.
The workshop centers in providing participants with opportunities to create theatre based in their own interests, what they want to say about the world, and learn how to create theatre on a virtual platform.
Virtual Zoom Classes:
Thursdays, 5:00-6:30pm (six sessions)
March 18, 25, (Closed April 1), April 8, 15, 22, & 29
Cost:
Members: $180.00
Non-members: $216.00
Zoom link will be shared once you register.