In-person Live Talent Show at EEA during Alive on 25! Songs of Independence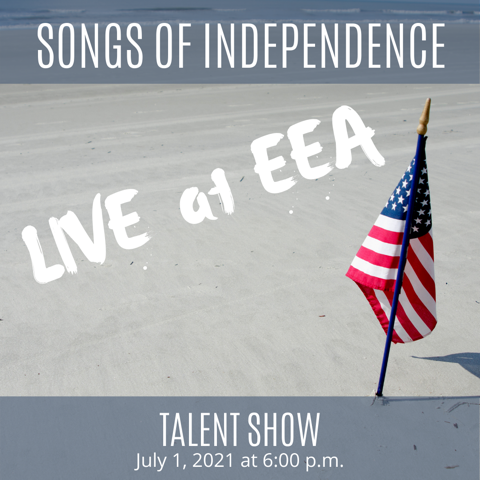 Showcase your talent in an in-person talent show with East End Arts School. our talent can be singing, dancing, gymnastics, or instrumental. There are no registration or participation fees. You must complete the registration form by clicking on the link below.
Guidelines:
All Performances must be about 2 Minutes in length.
Your song choice must be related to: Our bi-weekly theme
Parent approval must be given for all song choices.
You must attend the entire virtual Talent Show to support others.
All registrations must be in by the Wednesday, prior to the show date at 10:00 a.m.
We encourage all members and students of East End Arts (including Music Masters & Teeny Awards) to register early, we will only be accepting a limited number of participants.
Participants do not need to be a student of EEA, this program is open to everyone. If you miss the cut-off you will be placed on the waiting list for the next bi-weekly show; which will be virtual.
If you would like to join East End Arts' Membership, please CLICK HERE>>> https://www.eastendarts.org/membership/membership/member.html
Show starts Promptly at 6:30 p.m.
Limited space! Register NOW!
Don't forget to tell your talented friends to join in! See everyone soon!
QUESTIONS?
E-mail: education@eastendarts.org
Talent shows are held every other Thursday at 6:30 p.m.