Hip Hop & Rap Song Creation & Production (Tweens & Teens)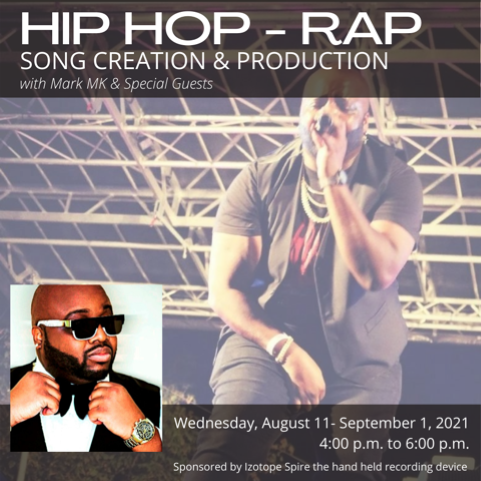 Hip Hop / Rap Song Creation & Production with Mark MK
(4 class session)
Step into the world of Hip Hop/Rap production and learn how a song is created with Mark MK. Singer-songwriter Mark MK will take you on a tour through the history of Hip Hop and how it evolved. Mark has worked with stars such as Jadakiss, Snoop Dog, John Legend and Flo Rida, and is ready to help you on your journey with the help of our sponsor Izotope Spire and their hand held recording device. You will learn how to pick the right track, understand song structure, master the art of creating stories and utilizing rhyme, and you will finish the class with your own song creation. Mark's special guests will be popping in via Zoom during classes too!
All students that complete the class will have a chance to perform at the Mosaic Festival.
Sponsored by Izotope Spire, the premium hand held recording device.
Wednesdays
4:00 p.m. to 6:00 p.m.
August 11 - September 1 (four classes)
Cost per 4 class session:
Member: $160.00
Non-member: $192.00