Plein Air Painting (Adults)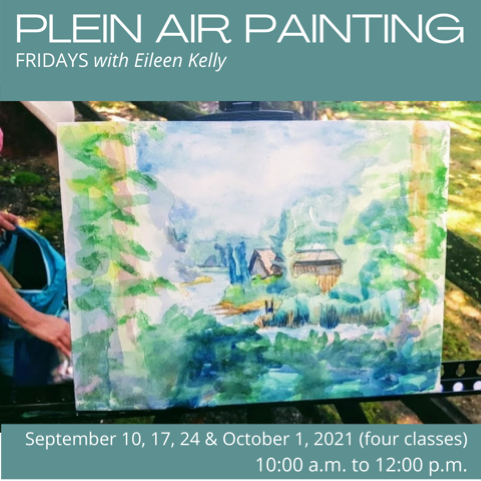 Plein Air Painting with Eileen Kelly
(4 class session)
Do you love the outdoors, enjoy observing the changing light of day and how it effects the colors of the landscape? Then you will embrace this workshop.
Plein Air painting is the art of painting outdoors. This practice was made an art form by the French Impressionists. They desired to paint the quickly changing light, which allows the artist to loosely express what they see and feel. Plein Air Painting is a free-flowing process. Artists are invited to draw inspiration from the beauty of nature all around them. What could be more inspiring then recording the lush, beautiful colors of the landscape while being totally engulfed in them.
During this in-person field workshop, we will enjoy beautiful landscapes & flower gardens, historic buildings, Peconic river views and all that catches the eye and moves the soul. In this no pressure workshop we will observe how the light interacts with the landscape, embrace the energy and enjoy the process starting with a quick composition & value sketch. You will then be encouraged to create a loose painting in the medium of your choice, receiving personal attention with proper social distancing.
The goal is to complete an art piece each session that captures the spirit of the landscape by incorporating light, color & flow. Plein Air painting is a powerful & rewarding experience, giving us an opportunity to paint the light!
Please bring your own supplies in the medium of your choice, easels and chairs are available if needed.
All levels welcome.
Fridays
September 10, 17, 24 & October 1, 2021
10:00 a.m. to 12:00 p.m.
Cost for 4 classes:
Members: $160.00
Non-members: $192.00