Oil Painting Course (Adults & Teens)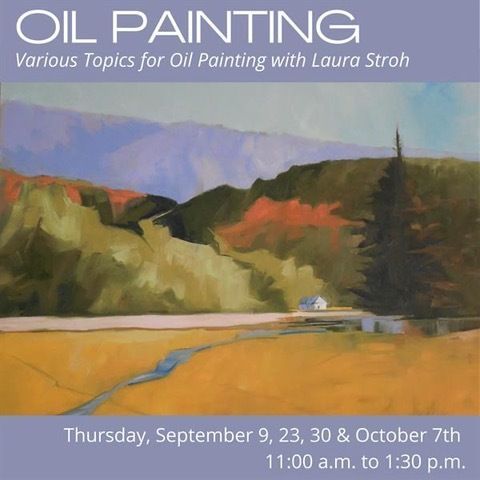 Oil Painting with Laura Stroh
4 Class Course
In this course artists will be exposed to a few different topics or subject matter to paint. In this course we will paint: a still life, a landscape, an abstract, and a topic of your choice. You may or may not not finish the painting in class. But I encourage all artists to try to finish it during the following week, and to bring it to class so that we may see it. The beauty of a classroom of artists is so that you may see each other's works. That's a great way to learn!
A visual to work from will be provided by the teacher, and she will do one or more demonstrations throughout the session.
Water soluble oils as well as acrylics are welcome. You will receive a materials lists when you register.
Thursdays - 11:00 a.m. to 1:30 p.m.
September 9, 23, 30 & October 7, 2021
4 Classes per Session
Members - $200.00
Non-members - $240.00