College Prep: Art Portfolio - Getting ready to apply for your BFA (Teens)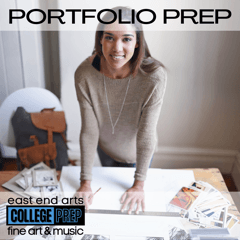 Portfolio Prep
Getting Ready to Apply for Your BFA
with Kenneth Jackson
Kenneth is ready to guide our high school students through the process of getting ready to apply to college for ART ...or for our younger art students, to start the steps to an amazing portfolio. For eight weeks on Saturday afternoon, the concentration will be to get help creating an application portfolio for specific art-related areas, such as Architecture, Fine Art, Graphic Design, Illustration, Interior Design, Animation, Game Design, Film, and other creative, visual art-based courses.
Develop A Portfolio of your work that demonstrates creativity, personality, abilities, and commitment.
* Work on sketchbooks to improve your skills (show a range of subject matter)
* Work with a range of different mediums for experimentation and in-depth compositional exploration (create strong original pieces)
* Develop strong observational drawing skills (learn to draw and paint with color)
* Create original work and learn how to talk and write about it (learn to highlight your artistic strengths)
"If you are drawing or painting anything, I advise that you also work three-dimensionally. You also must keep a daily sketchbook." - Kenneth
Saturdays
2:00 p.m. to 4:00 p.m.
October 16, 23, November 6, 13, 20, December 4, 11, & 18
No class on October 30 or November 27
Students will be responsible for their own supplies. Once registered Kenneth will provide a material list.
Series Cost:
Member: $320.00
Non-member: $384.00