College Prep: Smash your Music Major Application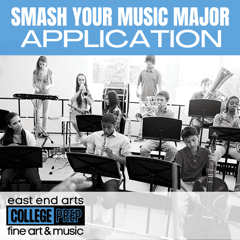 Smash Your Music Major Application with James Hayes
Music programs are a great way to improve your proficiency, meet music mentors, learn music theory, and discover the benefits of performance. Working with other musicians on the same path will build your confidence and strength and prepare you for your future as a Music Major.
James will walk you through what you need to accomplish before applying to college for music.
Here's the shortlist:
Performance and playing with other musicians. This is the key to growing as a music student.
Private lessons are essential to building your skills.
Learn to play the piano. Piano playing is required of all music majors.
Understand your voice and work on your "ear" in addition to music reading, all are required skills for a music major.
Knowledge of Music Theory prior to college will allow you to move forward in college minimizing the struggles that some students go through.
Becoming familiar with the different technology platforms used in most music education programs is a crucial step in making your college transition as a music major less stressful.
Introduce yourself to all music styles, even those that are distant from your present works, and listen to them carefully. Stepping out of your comfort zone is very important, going to different live music events, and supporting other local musicians is key to building a network, which will become an invaluable tool as you start the path in a career in music.
Saturdays
2:00 p.m. to 4:00 p.m.
October 16, 23, November 6, 13, 20, December 4, 11, & 18
No class on October 30 or November 27
Series Price:
Member: $320.00
Non-member: $384.00