Pumpkin Painting on the Porch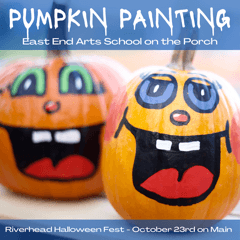 Pumpkin Painting on the Porch during Riverhead's Halloween Fest 2021 on Main
Join us on the porch to celebrate Halloween the way EEA knows how - through art!
Come to the porch and paint a pumpkin.
Suggested donation $5.00
Register to hold a spot to paint a pumpkin.
It will be a Spooktacular time!
Saturday, October 23, 2021
11:00 a.m. to 1:00 p.m., or until all the pumpkins are gone.