Fantasy Illustration with Mark Levine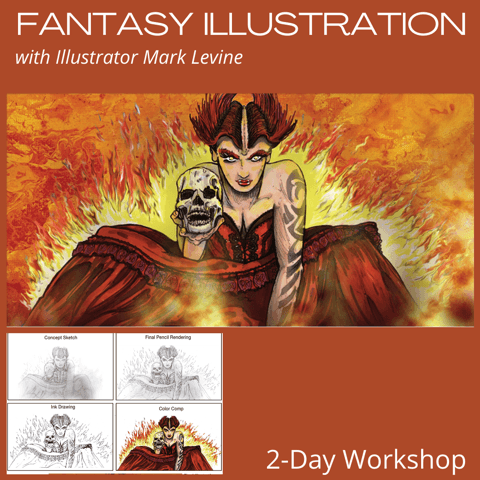 Fantasy Illustration
Instruction with Illustrator Mark Levine
Tweens and Teens
Mark will provide his methodology and direction to students who want to expand their drawing experience
by creating a series of pencil sketches, Ink tracings, and coloring techniques as a final artwork of fantasy.
Additionally, he will be discussing art direction, composition, graphics, and how digital software is used
to further enhance the artwork.
Each student will use the class time, four hours (2-day workshop) to create a work of art that begins with
their vision of what Fantasy art they would like to explore. Fantasy artwork will give the student a unique opportunity
to tap into their imagination… taking reality and adding a fanciful, unrealistic, fantastic, dreamy, wistful feeling to it.
Essentially the result of artists with wild imaginations.
Working one on one with each student:
1. I will guide them through the process of selecting an image to work on.
2. General discussion of my process, from concept sketches to tight pencil drawings.
3. Once pencil renderings are completed to the student's satisfaction, they will ink their drawings.
4. Ink drawings will be colored using whatever drawing mediums a student would like to use.
Everyone is encouraged to try mediums they might not have used, colored pencils, markers, or pastels.
Each student will work at their own pace, I will keep all students motivated and passionate about their artwork and the commitment to complete each task throughout the process.
Two Day Workshop
February 15 & 16, 2022
4:00 pm to 6:00 pm
Workshop cost: .................$100.00
Members 20% Discount: $ 80.00
Most materials are included - an optional list will be distributed after registration.