Photography Workshop Series Macro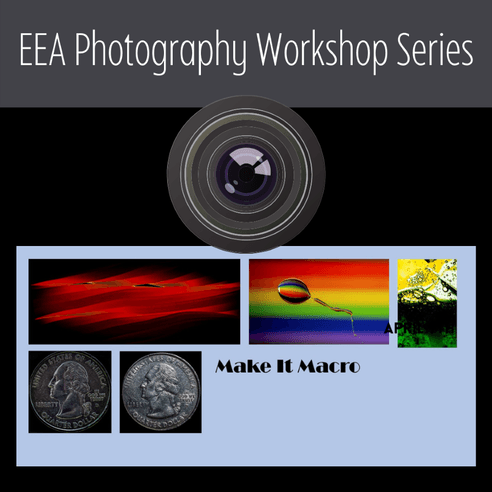 Photography Workshop Series
Macro
If It's Bigger Than a Thumb, Ignore It
One-Day Workshop with Eileen Novack
""Macro"" - If it's bigger than a thumb, ignore it.
Making it macro is all about looking closer at the things around us. "Macro" photography has different definitions depending on who you ask. Purists say it's only 1/1 life-size or closer. For the purpose of this workshop, we will be focusing on ¼ life-size and closer. With "life-size" meaning that something that is one inch long will also be one inch on the sensor. ¼ life-size then is something one inch long being ¼ inch on a sensor.
Macro photography can be done anywhere, but this workshop will concentrate on a small tabletop environment.
The workshop will include but is not limited to:
• How/why to do macro.
• What do you need? Equipment – Lenses.
• Lighting techniques.
• Multilevel setups.
• The workshop participants will be able to create their own image with equipment and lights that will be available.
Location
East End Arts, Riverhead NY
Prerequisite
Attendees should have a familiarity with the basics of digital photography. Bring your camera and have fun. Flash triggers for Canon, Sony and Nikon will be available.
Thursday, May 12, 2022 - 5:00 p.m. to 8:00 p.m.
Workshop cost - one day: ...............$75.00
Member 20% Discount: ..............$60.00