Linocut - Intro to Print Making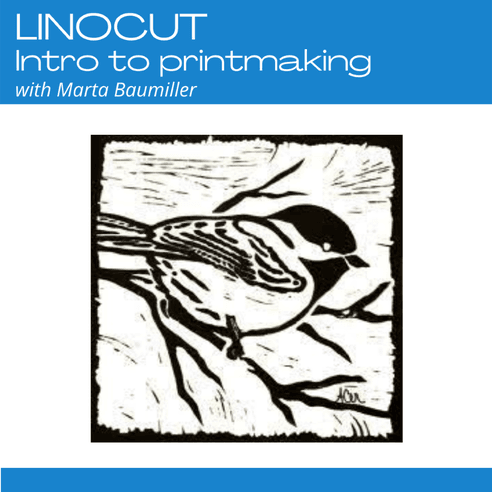 Linocut - Intro to Printmaking
with Marta Baumiller
This linocut printmaking class is an invitation to learn about this unique technique and the possibilities of its use. During the classes, the participants will, step by step, make their own linocut stamps which they will be able to use on sheets of paper or fabric, creating original graphics, illustrations, and cotton shopping bags. They will also learn what tools are necessary for linocut, which patterns are best to start with, and whether you can create multi-colored compositions.
1. an introduction to the history of linocut
2. overview of materials
3. project planning
4. transfer of the design to a matrix, linoleum engraving
5. making prints
MATERIALS
soft-cut linoleum (2 or more pieces), two chisels type V and U, rubber printing roller, plastic pad for spreading A4 paint, linocut paint, wooden spoon, paper with a weight of 90/100/120, and/or a cotton bag, sack, cloth, gloves, paper tape, markers.
Mondays
4:00 pm to 6:00 pm
May 2, 9, 16, & 23, 2022
Four 2-hour classes - $200.00
Member Price 20% Discount - $160.00