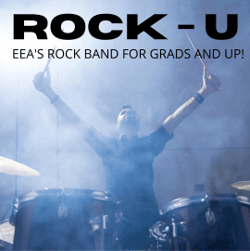 Rock U
Directed by Rick DeLuca
This group is for all musicians 19 to 35 who want to jam with other musicians, work on some covers, create originals, and eventually learn how to start recording.
High School is over (or almost) and your bandmates are heading in all different directions. Meet like individuals and form a new band!
Rick, a seasoned Rocker, will lead this group of musicians, share his experiences and help define this group and get them ready to take the stage.
Wednesdays (8 sessions plus performance)
April 13, 27, May 4, 11, 18, 25, June 1, 8, and Final Show TBD (around June 15, 2022)
Cost:
9-week semester (8 rehearsals plus final show)……. $250.00
Member Price - 20% discount …..........................…$200.00