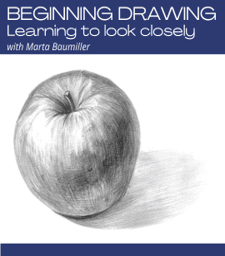 Beginning Drawing
Learning to Look Closely
with Marta Baumiller
This class focuses on observation and sketching from life. Everything from still-life to a live model can be studied as a subject. The student explores various techniques such as charcoal, India ink and stick drawing to familiarize themselves with the understanding of value, gesture, contrast, chiaroscuro, proportion as well as perspective.
The class is encouraged to draw many subjects; plants, interiors, landscape elements, objects and figures while receiving advice throughout the process on techniques and process.
The workshop will conclude with a mixed technique composition in ink and white pastel on brown paper.
Materials;
16x20 or 18x24 newsprint, sketch and multimedia paper or Canson charcoal paper .
Pencils (2B or softer ), Ebony pencils, kneaded erasers, charcoal pencils or sticks, oil sticks, white pastel, white and black India ink and nib pen or brush.
Mondays
4:00 pm to 6:00 pm
June 6, 13, 20 & 27, 2022
Four 2-hour classes - $200.00
Member Price 20% Discount - $160.00