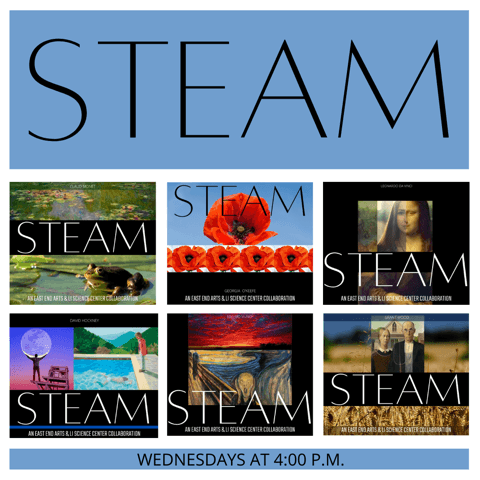 STEAM SPRING - Ages 5 to 12
with Judy Isbitiren LISC and Kathleen Ruscick EEA
EEA STEAM weekly workshop is an information-filled program presented as a collaboration between EEA and the LI Science Center in Riverhead. Our curriculum is a one-hour program based on famous artwork; such as; Van Gogh's Starry Night or Leonardo da Vinci's Mona Lisa. Students and Instructors discuss the paintings and students receive a brief art history lesson. Instructors connect specific artworks with a science topic. The class closes with a collaborative art and science project which relates to both the artist's style and the science topic. This one-hour jam-packed class is a weekly workshop you won't want your child to miss!
All materials are included.
Each session promotes a new topic.
March 30, 2022
Georgia O'Keefe/ The Flower
April 6, 2022
Leonardo DaVinci/ How the Brain Sees
April 13, 2022
Hopper/ Electricity and Light
April 27, 2022
Edvard Munch/ Atmosphere
May 4, 2022
Grant Wood/ Farm Life
May 11, 2022
MC Escher/ Optical Illusions
May 18, 2022
Picasso/ Shapes
May 25, 2022
Terracotta Warriors/ the Science of Metals
June 1, 2022
Van Gogh/ The Galaxy
June 8, 2022
Monet/ Pond Life
EEA and LISC members are eligible for member pricing.
Wednesdays
4:00 p.m. to 5:00 p.m.
March 30, April6, 13, 27, May 4, 11, 18, 25, June 1, & 8, 2022
Cost:
10-week semester ………………………. $250.00
Member Price - 20% discount ….…..$200.00
Single Class: ...................................$25.00
Member Price - 20% discount ….…..$20.00