Photography Workshop Series Just Add Water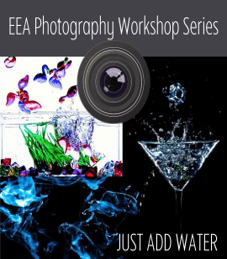 Photography Workshop Series
Just Add Water: Experiments with Getting Things Wet
One-Day Workshop with Eileen Novack
Water is always exciting, it's dynamic and just goes everywhere when you spill it. This workshop is all about spilling it, splashing it, and immersing things in it.
The workshop will include but is not limited to:
• Using water and other liquids to create more creative content.
• Splashing water to capture the splashes.
• Fish tank for immersion and splashes.
• The workshop participants will be able to create their own image with equipment and lights that will be available.
Location
East End Arts, Riverhead NY
Prerequisite
Attendees should have a familiarity with the basics of digital photography. Bring your camera and have fun. Flash triggers for Canon, Sony and Nikon will be available.
Thursday, June 9, 2022 - 5:00 p.m. to 8:00 p.m.
Workshop cost - one day: ...............$75.00
Member 20% Discount: ..............$60.00