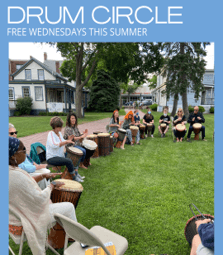 Drum Circle
with Kate the Drummer
and Christina Sun
We are BACK!
Drum circles have been an important community ritual for ages. Our circle leaders Kate Albrecht & Christina Sun lead the circle. If you are interested in lessons in West African drumming or Dun Dun dance please inquire.
Join us Wednesday, starting June 1st, weather permitting, for our first circle of the season, as always this is a FREE event.
Donations are always encouraged and appreciated.
Wednesday - Every other Week
Starting June 1, 2022
June 1, 15, 29, July 13, 27, August 10, & 24
6:00 p.m. to 7:00 p.m.
FREE