EEA BLTN (Better Late Than Never) Adult Rock Band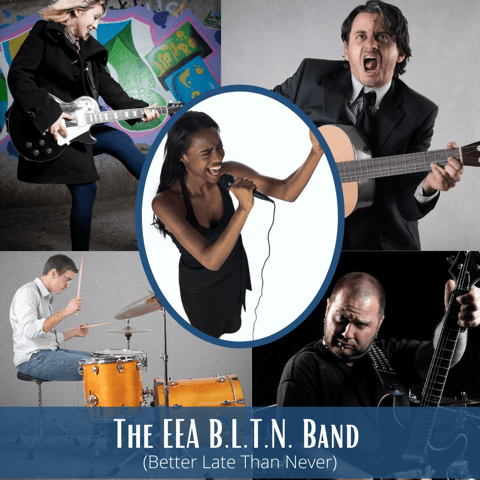 EEA BLTN (Better Late Than Never)
Adult Rock Band
Adult Rock Band with Director Rick DeLuca
This group is for all musicians 19 and over who want to jam with other musicians, work on some covers and get out there and play!!
It is time to dust off your guitar, tune your bass, drag your drumset from the basement, and start exercising your vocal cords. The band is getting back together!!
Rick, a seasoned Rocker, will lead this group of musicians, that are too busy to play and awaken their love of jamming with the band. Now that secret ambition to be a rock star can be a reality.
It's a great way to unwind and socialize in a fun setting and to live the dream! The goal is to work on a setlist chosen by the group and to get you out there playing. If the kids can do it (EEA Rocks) you certainly can.
Summer Session
Mondays (8 sessions plus performance)
7:00 to 8:30 p.m.
Cost:
9-week semester (8 rehearsals plus final show)……. $250.00
Member Price - 20% discount …..........................…$200.00