Going with the Flow: A One-Day Mixed Media Workshop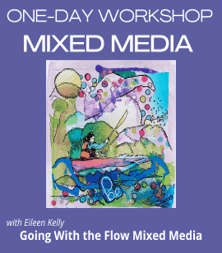 "oing with the Flow
One-Day Mixed Media Workshop
with Eileen Kelly
In this workshop we will have fun with mixed media techniques including drawing, painting, stamping, stitching with ink, collaging, and more. We will embark on an artistic journey of self-discovery through artistic expression.
Materials: Bring materials you have already such as
Mixed media paper or watercolor paper [size 8 x 10]
Water based paint [such as watercolor, gouache, acrylic] & brushes of any size.
Ink pens / markers [such as uni posca, microns, sharpies] crayons, pastels
Papers of different kinds, colors, textures to tear and paste [such as magazines, newsprint, tissue paper, craft]
A Glue [such as Mod Podge, craft, Elmer's glue]
Optional: Stamps & stamp pads [premade stampers, sponge pieces, leaves, bottle caps, other objects with texture patterns or design]
Tuesday, August 23, 2022
6:00 pm to 8:00 pm
Cost: $50.00
Member 20% Discount: $40.00"