Camp Superstar Week Eight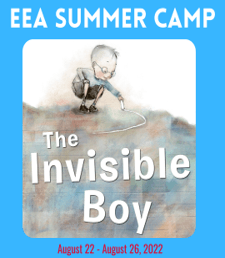 Camp Superstar Week Eight
(5 yrs. to 7 yrs.) & (8 yrs. to 10 yrs.)
Based on the book: The Invisible Boy
Simple Acts of Kindness!
The Invisible Boy
by: Trudy Ludwig, Illustrated by: Patrice Barton
A simple act of kindness can transform an invisible boy into a friend.
Camp Superstar - How to be a Star Inside and Out!
Through creativity and expression, all campers will discover what makes them so amazing! EEA counselors integrate music and art from all parts of life into all activities. Each week closes with an art show and performance for the camper's families.
 
Unexpected Discoveries Camp are one-week camp cycles over an 8-week period where campers are introduced to a broad range of artistic and creative experiences through a camp-wide theme. In this imaginative summer arts program campers will immerse themselves in art, theater, music, and dance while being inspired by this summer's theme.
 
Each day at camp includes the visual arts (painting, drawing, sculpting, and craft activities), music (singing, dancing, and exploring different instruments), and theater (stories, puppetry, role-playing, and other dramatic activities). The East End Arts School offers a home-like setting with comfortable air-conditioned rooms and fenced-in, park-like grounds for outdoor play. The small group size provides for a supportive camp experience with a ton of personal attention.
Offering:
Full Day: 9:00am to 3:00pmLunch: (bring your own) 12:00 to 12:30
Full-Day/Full Week: $435.00
Full-Day/Full Week: Member 20% Discount - $348.00
Half-Day AM: 9:00 a.m. to 12:00 p.m.
Half-Day PM: 12:00 p.m. to 3:00 p.m.
Half-Day/Full Week: $218.00
Half-Day/Full Week: Member 20% Discount - $174.00
EARLY MORNING & AFTERCAREAftercare consists of modified camp activities. Early morning care is available between 8:30 - 9:00 AM and aftercare between 3:00 - 5:00 PM: $30 p/day or $100 p/week
To complete registration please fill out all forms and upload all necessary documents.
For FORMS go to our website at:
https://www.eastendarts.org/school/summer-camp/camp-form-submission.html
If you have any questions please call 631.369.2171