Abstract Painting with Renee Blank (Adults)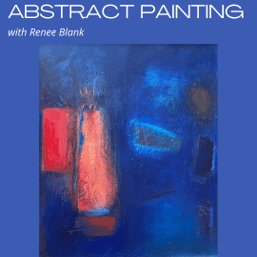 Abstract Painting
with Renee Blank
Abstract art is art that does not attempt to represent an accurate depiction of a visual reality but instead use shapes, colours, forms and gestural marks to achieve its effect.
- Wassily Kandinsky.
Learn to work with your medium, either acrylics or watercolors (oils if you are experienced), and paint with expression and skill. You can work on small canvases or large (large is more fun).
Renee will guide you through the process and then let you fly. She will give you exercises to help open up the imagination and creative process of painting, the exercises will be with acrylic and watercolor on paper.
All artists hammer in the skills - but it is the art of loosening up and really working with your medium and color palette that allows you to begin to bring emotion and depth to your painting ...and it is fun!
Bring a friend and join the group Thursday, starting September 15th at 11:30 to 1:30.
Supplies: Bring your own canvas, brushes and paint medium. Thursday
September 22, 29, October 6, & 13, 2022
Cost: $200.00
20% Members Discount: $180.00