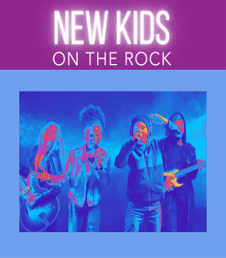 NEW KIDS ON THE ROCK!
with Bakithi Kumalo
Band Assistant: Natalia Rahim
EEA is happy to announce our new Director of Bands.
Bakithi Kumalo
A 5-TIME GRAMMY AWARD WINNING MUSICIAN PLAYING WITH THE LIKES OF PAUL SIMON, HERBIE HANCOCK, SUSAN TEDESCHI BAND, JOSH GROBAN, GLORIA ESTEFAN, AND MANY MORE. HE IS MOST WELL KNOWN FOR HIS BASS LINES ON PAUL SIMON'S ALBUM ""GRACELAND"", AND MORE SPECIFICALLY HIS NEVER BEFORE DONE SOLO ON THE SONG ""YOU CAN CALL ME AL"".
Just like EEA Rocks the New Kids group will work together as a band. The goal is for students to learn the basics: setting up their equipment, understanding a PA system, working a mic, harmonizing vocally, learning to play with other band members, learning to take solos; as well as the introduction to new genres of music.
Students work on mastering skills such as; playing together as a band, timing, and most importantly, performance and stage presence. At the conclusion of each session, students will perform to exhibit the growth of each student.
All students are required to be proficient at an intermediate to advanced level in an instrument of choice in order to participate.: vocals, guitar, bass, drums, keys, violin, or horns (all instruments are welcome).
Wednesdays
4:00 to 5:30
September 13, 20, 27, October 4, 11, 18, 25, November 1, & 8,2022
Cost:
9-week semester (8 rehearsals plus final show)……. $280.00
Member Price - 20% discount …..........................…$224.00"