EEA BLTN (Better Late Than Never) Adult Rock Band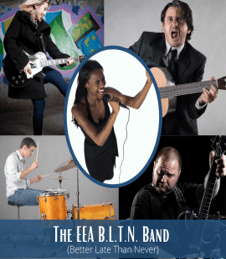 EEA BLTN (Better Late Than Never)
Adult Rock Band
with Bakithi Kumalo
EEA is happy to announce our new Director of Bands.
Bakithi Kumalo
A 5-TIME GRAMMY AWARD WINNING MUSICIAN PLAYING WITH THE LIKES OF PAUL SIMON, HERBIE HANCOCK, SUSAN TEDESCHI BAND, JOSH GROBAN, GLORIA ESTEFAN, AND MANY MORE. HE IS MOST WELL KNOWN FOR HIS BASS LINES ON PAUL SIMON'S ALBUM "GRACELAND", AND MORE SPECIFICALLY HIS NEVER BEFORE DONE SOLO ON THE SONG "YOU CAN CALL ME AL".
This group is for all musicians 30 and over who want to jam with other musicians, work on some covers and get out there and play!!
It is time to dust off your guitar, tune your bass, drag your drum kit from the basement, and start exercising your vocal cords. The band is getting back together!!
Bakithi, a professional musician, will lead this group of musicians, that are too busy to play and awaken their love of jamming with the band. Now that secret ambition to be a rock star can be a reality.
It's a great way to unwind and socialize in a fun setting and to live the dream! The goal is to work on a setlist chosen by the group and to get you playing live.
Tuesdays (8 rehearsals plus performance)
7:30 to 9:00 p.m.
September 6, 13, 20, 27, October 4, 11, 18, 25, & November 1 (final performance)
Cost:
9-week semester (8 rehearsals plus final show)……. $280.00
Member Price - 20% discount …..........................…$224.00