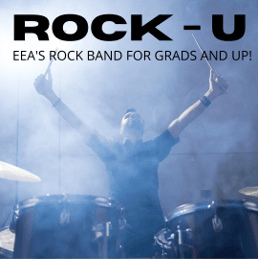 Rock U
with Bakithi Kumalo
Band Assistant: Natalia Rahim
EEA is happy to announce our new Director of Bands. Bakithi Kumalo.
A 5-TIME GRAMMY AWARD WINNING MUSICIAN PLAYING WITH THE LIKES OF PAUL SIMON, HERBIE HANCOCK, SUSAN TEDESCHI BAND, JOSH GROBAN, GLORIA ESTEFAN, AND MANY MORE. HE IS MOST WELL KNOWN FOR HIS BASS LINES ON PAUL SIMON'S ALBUM "GRACELAND", AND MORE SPECIFICALLY HIS NEVER BEFORE DONE SOLO ON THE SONG "YOU CAN CALL ME AL".
This group is for all musicians 18 to 35 who want to jam with other musicians, work on some covers, create originals, and eventually learn how to start recording.
High School is over (or almost) and your bandmates are heading in all different directions. Meet like individuals and form a new band!
Bakithi, will lead this group of musicians, share his experiences and help define this group and get them ready to take the stage.
Fall Session:
Wednesdays (8 rehearsals plus performance)
8:30 pm to 10:00 pm
September 7, 14, 21, 28, October 5, 12, 19, 26, & November 2, 2022
Cost:
9-week semester (8 rehearsals plus final show)……. $280.00
Member Price - 20% discount …..........................…$224.00