Free Style Painting (Teens, Adults)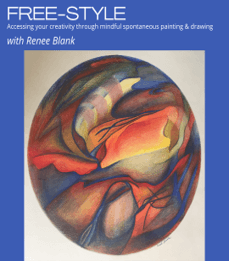 Free-Style
with Renee Blank
Sometimes you just want to create. Accessing your creativity through mindful spontaneous painting, with watercolors, acrylics, collage making, and various drawing mediums, allows you to do just that!
Beginners and advanced students are welcome .
Renée Blank is a fine artist, art educator, and a trained expressive arts therapist. She guides you through the process and then lets you fly. Different exercises can help open up your imagination and creative process, whether you utilize painting, drawing, collaging, or a combination of all three.
All artists work on their skills - but it is the art of loosening up and really working with your medium and color palette that allows you to begin to bring emotion and depth to your artwork ...and it is fun!
Bring a friend and join the group!
Supplies needed: Bring your preferred materials, paint, canvas, and drawing medium. Some additional materials will be available for exploration.
Thursdays
11:30 am to 1:30 pm
October 20, 27, November 3, & 10, 2022
Cost: $200.00
20% Members Discount: $180.00