East End Arts presents
SHOP LOCAL HOLIDAY MARKET
SATURDAY, DECEMBER 11TH | 12PM - 7PM
12:30PM - 2:30PM | VISIT & PICS WITH SANTA
1:00PM - 2:00PM | GOAT ON A BOAT PUPPET SHOW
2:00PM - 3:00PM | MAKE-AN-ORNAMENT WORKSHOP
3:00PM - 4:00PM | DOWNTOWN RIVERHEAD HOLIDAY PARADE
4:00PM - 7:00PM| DOWNTOWN RIVEHEAD BONFIRE
PLUS 3-DAY HOLIDAY ART SALE
FRIDAY, DECEMBER 10TH | 12PM - 7PM
SATURDAY, DECEMBER 11TH | 12PM - 7PM
SUNDAY, DECEMBER 12TH | 12PM - 5PM
EEA's Shop Local Holiday Market serves as a diverse marketplace featuring the best handmade goods, creative makers, small businesses, and independent artists. The EEA Shop Local Holiday Art Sale consists of a variety of works exclusively by EEA Members. Shop Local Holiday's mission is to divert holiday shopping from commercial retailers into Downtown Riverhead to foster inspired gift-giving and support local creatives and businesses.
For more information, contact us at members@eastendarts.org or 631.727.0900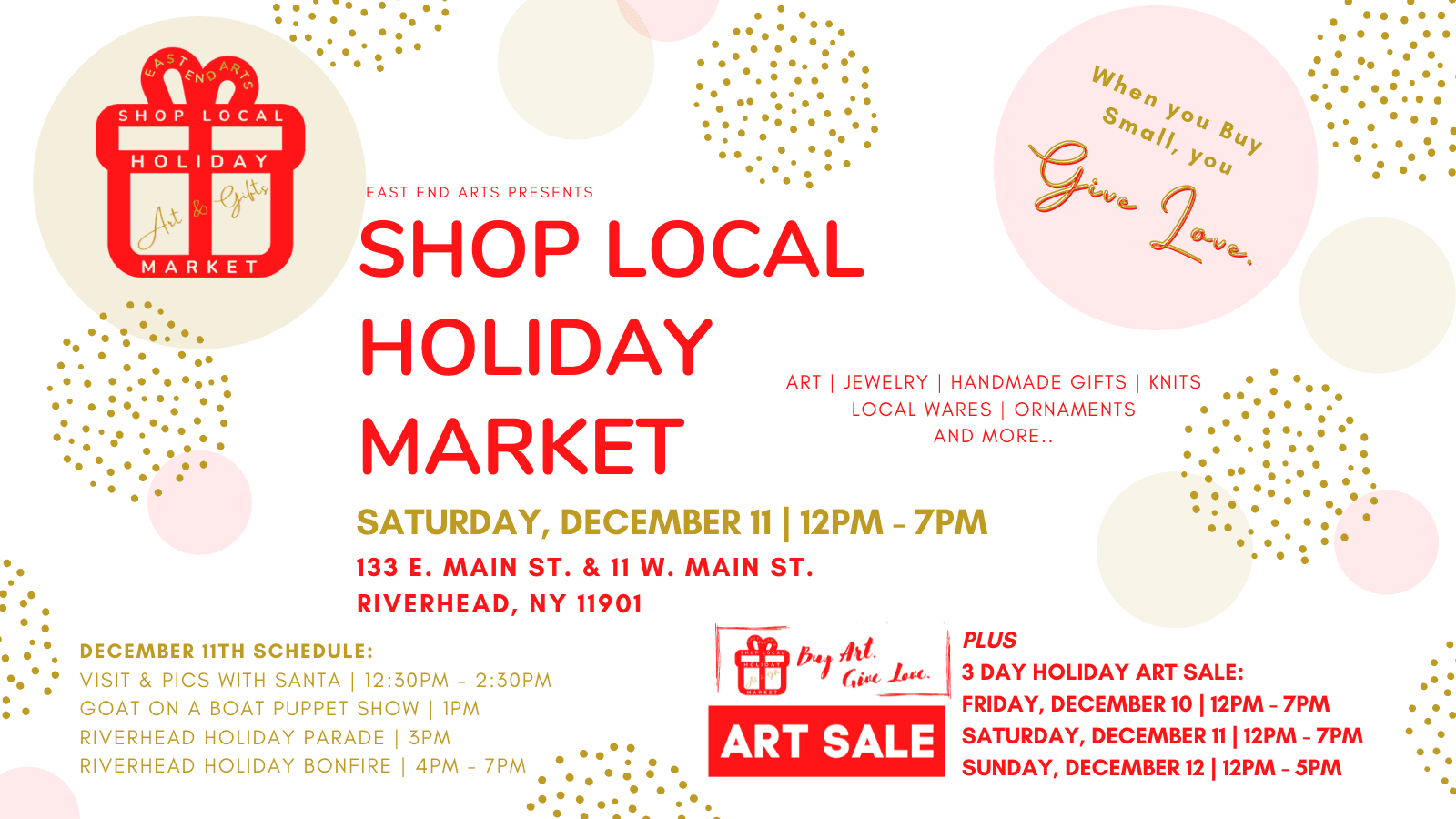 ---
NOW SEEKING ARTISTS & MAKERS!
Buy Art. Give Love. This Art Sale nestled inside the Holiday Market in both locations includes a variety of original works exclusively by EEA Members.