18th Annual Teeny Awards Ceremony
June, 2020
---
Congratulations to all of the 2019 year's participants, nominees, honorees, and winners!
click here to view the complete list of nominees, honorees & winners from 2019 >>
 
---
About the Teeny Awards Program
The Teeny Awards, conceived from the idea of the Antoinette Perry Awards – The Tony Awards – for Broadway shows, has been celebrating excellence in high school theater across the East End of Long Island since 2002. Through the Teeny Awards program, East End Arts strives to raise the bar on theater education by encouraging increased attendance and community pride at school productions, much like school sports programs. Behind-the-scenes coordination takes place throughout the school year, as anonymous volunteer judges with theatre and arts experience attend all high school theatrical performances on the East End to determine the best for each and every nomination. In June, the winners are announced at the Teeny Awards Gala Ceremony at one of the participating schools.
At the Gala Ceremony, the public is invited to relive some of the favorite performances from this year's shows from the 16 participating high schools in the region, and celebrate the best of the best in East End high school theater! The awards are presented by esteemed community members, theatre professionals, and arts supporters, all hosted by a local personality.
The Teeny Awards recognizes student talent with judging categories such as Lead Actor, Lead Actress, Supporting Actor, Supporting Actress in two categories of Play and Musical. Additional awards are given to Student Choreographers, Poster and Playbill Designers, and Outstanding Performer in a Play or Musical. New awards and recognitions will be added this year for students involved in design and technical categories including Stage Management; Costume/Prop, Set, Audio, and Lighting Design; and Pit Orchestra. The coveted "Judges' Choice" award goes to an exemplary performance or performer and has sometimes gone to an entire cast or play. All awards and categories are given at the discretion of the judges.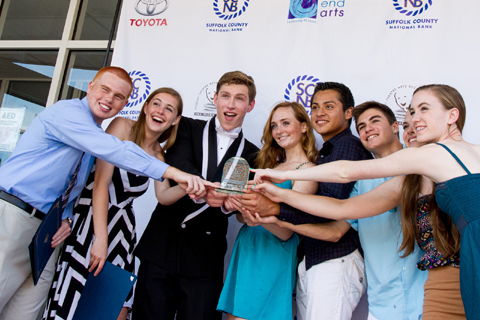 ---
17 schools are participating in the 2019-2020 Teeny Awards program
Bellport High School
Bridgehampton High School
Center Moriches High School
East Hampton High School
Greenport High School
Hampton Bays High School
Longwood High School
Mattituck High School
Mount Sinai High School
Miller Place High School
Pierson High School (Sag Harbor)
Riverhead High School
Rocky Point High School
Shelter Island High School
Southampton High School
Southold High School
Westhampton Beach High School 
For information about how your school can participate, contact Kasia Klimiuk, Teeny Awards Coordinator at East End Arts:
teenyawards@eastendarts.org or 516.297.4123 or 631.727.0900
---
We need judges! Find out how to become a judge below.
Are you an arts educator? Do you have a theater background or work as a theater professional? Are you an advocate or teacher of the performing arts? Are you an avid theater goer? Then we want YOU! East End Arts' Teeny Awards Judging Committee is looking for volunteers to evaluate high school theatrical performances on the East End for the 2019-20 school year. 
To apply to be a judge or for more information on becoming a judge, contact Teeny Awards Coordinator Kasia Klimiuk at TeenyAwards@eastendarts.org or call 516.297.4123 or 631.727.0900
East End Arts is a 501(c)3 not-for-profit organization by the IRS and the NYS bureau of Charities. Proceeds support our mission to build and enrich our community through the arts by way of education, support, advocacy, and inspiration. All donations are tax deductible to the fullest extent of the law.
CLICK HERE to submit an application to become a judge for the 18th Annual Teeny Awards
---
Thank you to our 2019 Sponsors:
---
For information about sponsorship opportunities, contact Kasia Klimiuk, Teeny Awards Coordinator at East End Arts:
teenyawards@eastendarts.org or 516.297.4123 or 631.727.0900
---