19th Annual Teeny Awards Ceremony
Date & Time TBA
---
---
About the Teeny Awards Program
The Teeny Awards, conceived from the idea of the Antoinette Perry Awards – The Tony Awards – for Broadway shows, has been celebrating excellence in high school theater across the East End of Long Island since 2002. Through the Teeny Awards program, East End Arts strives to raise the bar on theater education by encouraging increased attendance and community pride at school productions, much like school sports programs. Behind-the-scenes coordination takes place throughout the school year, as anonymous volunteer judges with theatre and arts experience attend all high school theatrical performances on the East End to determine the best for each and every nomination. In June, the winners are announced at the Teeny Awards Gala Ceremony at one of the participating schools.
At the Gala Ceremony, the public is invited to relive some of the favorite performances from this year's shows from the 18 participating high schools in the region, and celebrate the best of the best in East End high school theater! The awards are presented by esteemed community members, theatre professionals, and arts supporters, all hosted by a local personality.
The Teeny Awards recognizes student talent with judging categories such as Lead Actor, Lead Actress, Supporting Actor, Supporting Actress in two categories of Play and Musical. Additional awards are given to Student Choreographers, Poster and Playbill Designers, and Outstanding Performer in a Play or Musical. New awards and recognitions will be added this year for students involved in design and technical categories including Stage Management; Costume/Prop, Set, Audio, and Lighting Design; and Pit Orchestra. The coveted "Judges' Choice" award goes to an exemplary performance or performer and has sometimes gone to an entire cast or play. All awards and categories are given at the discretion of the judges.
CLICK HERE if you or your company are interested in sponsorship opportunities for the 19th Annual Teeny Awards>>>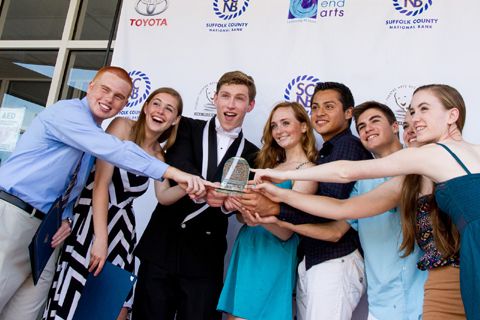 ---
18 schools are participating in the 2020-2021 Teeny Awards program
Bellport High School
Bridgehampton High School
Center Moriches High School
East Hampton High School
Greenport High School
Hampton Bays High School
Longwood High School
Mattituck High School
Mount Sinai High School
Miller Place High School
Pierson High School (Sag Harbor)
Port Jefferson High School
Riverhead High School
Rocky Point High School
Shelter Island High School
Southampton High School
Southold High School
Westhampton Beach High School 
---
---
Click HERE to purchase 2021 Quaran-Teeny Award Merch!
While supplies last.
Purchase Deadline June 2021.
---
For information about how your school can participate, contact Kasia Klimiuk, Teeny Awards Coordinator at East End Arts:
teenyawards@eastendarts.org or 516.297.4123 or 631.727.0900
---
Fall/Winter Shows (6 Shows)
"Check Please" at Rocky Point High School
March 5-7, 2021
Stream Link: https://youtu.be/SwZoA5e2-AE
Stream: Friday, March 5 at 7pm through Monday, March 8 at 7pm
"Our Place" at Southold High School
Pre-recorded Live Stream on Friday, 12/11 at 7pm and Saturday, 12/12 at 7pm
For tickets: Showtix4u.com
"Ten Ways to Survive Life in a Quarantine" at Pierson High School
Live Stream on Thursday, Monday, 12/21 & Tuesday, 12/22 - Available to watch all day
Link: https://www.broadwayondemand.com/series/MQOM7H5GsGvw-pierson-high-school-theater--ten-ways-to-survive-life-in-a-quarantine
One-Act Plays at Longwood High School
January 22, 23 & 24, Virtual Live Stream
"The Still Alarm" by George S. Kaufman; "That's Not How I Remember It" by Don Zolidis; "The Actor's Nightmare" by Christopher Durang & "Cut" by Ed Monk

Musical Revue: "Hope Rising" at Riverhead High School
Thursday, October 29 at 7pm
YouTube Pre-recorded Video: https://www.youtube.com/watch?v=5_HNZe4RGlM&feature=youtu.be
Spring Shows
Variety Show: "Just for Laughs" at Port Jefferson High School
March 2021
Stream Link: http://www.portjeffschools.org/News/#126140
Musical Revue: "A Broadway Revue" at Rocky Point High School
Friday, March 5 at 7pm through Monday, March 8 at 7pm
"Les Misérables" at Miller Place High School
Saturday, April 10 at 7pm & Sunday, April 11 at 5pm
Tickets & Live Stream at www.millerplace.k12.ny.us
"All Because of Agatha" at Westhampton Beach High School
Friday, April 16 at 7:30pm, Saturday, April 17 at 7:30pm, & Sunday, April 18 at 2pm
Limited In-Person Audience & Video Recording
"The Audition" by Don Zolidis (One Act Play) at Mattituck High School
Friday, April 16 and Saturday, April 17
Musical Revue: "Southampton Broadway Revue" at Southampton High School
Friday, April 23
"Selfie" One-Act Play at Rocky Point High School
April 23-24
Pre-Recorded Video Link
"12 Angry Jurors" at Hampton Bays High School
Drive-In Movie Event: Friday, May 7 at 6:00pm
"Pandemic Pandemonium" at East Hampton High School
Saturday, May 1 at 7:00 p.m.
Click here to watch>>  http://www.easthamptonschools.org/
"Grease" at Center Moriches High School
Thursday, May 20 at 8:00 p.m.; Friday, May 21 at 8:00 p.m.; Saturday, May 22 at 8:00 p.m.; & Sunday, May 23 at 4:00 p.m.
"Spamalot, the Socially Distanced Concert-ish Version" at Southold High School
Thursday, May 20 at 7 p.m. & Friday, May 21 at 7 p.m.
Livestream: www.southold.booktix.com
"NOW.HERE.THIS" at Bellport High School
Friday, May 21 at 7:30 p.m. and May 22 at 7:30 p.m.
Livestream: Showtix4u.com

"Jekyll and Hyde" at Longwood High School
Friday, May 21 at 7:00 p.m.; Saturday, May 22 at 2:00 p.m.; & Saturday, May 22 at 7:00 p.m.
list in formation as of 04/12/2021
---
2020 - 2021 Show Posters
---
Thank You to Our 2021 Sponsors
CHECK OUT OUR PREVIOUS TEENY AWARDS!
---
For information about sponsorship opportunities, contact Kasia Klimiuk, Teeny Awards Coordinator at East End Arts:
teenyawards@eastendarts.org or 516.297.4123 or 631.727.0900