Drum Circle - Open to the Public and Free Outdoor Program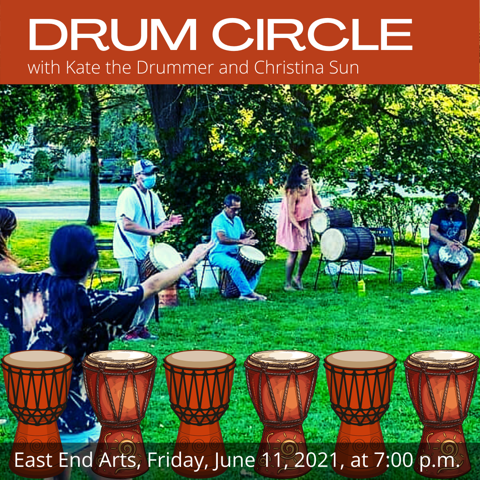 Drum Circle is back!
Feel the warm summer breeze as you create rhythm and learn the art of syncopation. African Drumming is a wonderful skill and a great way to share your beats or "off beats" with others. Play on the campus of East End Arts School by the Peconic Riverfront.
Drum Circle is open to the public and held on East End Arts campus. While East End Arts has a large supply of drums, drums are limited and if you would like to participate in drumming, drums are assigned on a first-come, first-serve basis upon arrival.
Once all drums are assigned, onlookers are are free to dance or gather around to enjoy the uplifting beat.
This event is FREE, and as always there will be a tip jar for anyone to donate to EEA or offer their appreciation for the talented musicians that volunteer their time.
African Drumming classes are offered at EEA, if you would like to dive deeper into the rhythms, history, and sounds; a sign-up sheet is provided during the drum circle.
Questions? Contact the School Registrar at education@eastendarts.org or 631.369.2171