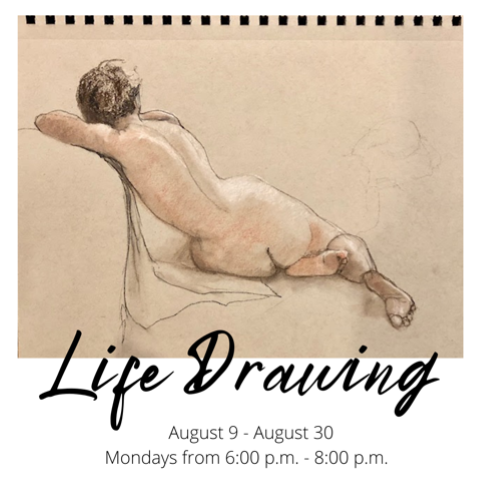 Life Drawing is an essential step in the growth of one's artistic journey. This class is for all levels and is an independent study amongst other artists. Beginners have the chance to draw from the live model and make decisions on what to put down on paper. Experienced artists can use the time to hone in on a specific problem area or just come to keep their drawing skills fresh.
The two hour sessions will consist of short poses ranging from two to twenty minutes. A monitor will be present to set up and time the poses and to sketch along with the group. You are welcome to observe the monitor's practice and discuss the process during the breaks. Everyone can learn from each other.
All supplies are the responsibility of the student.
Chairs and easels are provided.
Minimum four students, maximum 10 students per class.
Monitor: Nancy Willott
6:00 p.m. to 8:00 p.m.
Mondays: August 9, 16, 23, and 30
Cost for four (4) sessions:
Members: $80.00, plus $50 model fee (one time fee)
Non-Members $96.00, plus $50 model fee (one time fee)