Pick Three: Exploring a World of Color with Watercolor Triads One-Day Workshop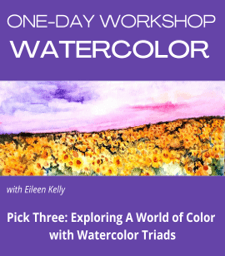 Pick Three: Exploring A World of Color with Watercolor Triads
One-Day Workshop
with Eileen Kelly
Red, Yellow, Blue, what can you do?
This workshop will shed a little light on the cacophony of color that can be expressed using only three primary colors, red, yellow, blue. Sounds simple until we look at the many shades of blue, who knew. What about the green grass, purple skies, and orange flowers in the world? No worries, this workshop will open a world of color mixing, secondary, tertiary, ""to infinity and beyond"". We will discuss creating harmony, depth, and movement in our paintings.
Materials: Watercolor paint, paper & brush, then we'll just add water!
Tuesday - August 9, 2022
6:00 pm to 8:00 pm
Cost: $50.00
Member 20% discount: $40.00