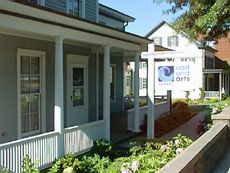 Founded in 1995, and now serving over 1,000 students annually, the East End Art School offers year-round private and group instruction in music, a full visual arts program for adults and children, as well as eight weeks of summer camps. East End Arts programs serve individuals from infancy (through our early childhood music programs) to end-of-life (through our Music by The Bedside program).
East End Arts believes, and educational studies have concluded, that integrating arts into the broad educational curriculum encourages learning in all academic areas. The arts are a vital part of a child's development and open new doors to learning for those who are beyond their formal education years.
Our professional music faculty is highly regarded, with degrees from prestigious institutions including Juilliard, Mannes, Boston Conservatory of Music, and Moscow Conservatory of Music.
Our professional art faculty also holds degrees from prestigious institutions and most are current working artists that have received awards from many high-caliber exhibitions. Many instructors have their artworks showcased in permanent collections at museums such as the Metropolitan Museum of Art in NYC.
---
SCHOOL CALENDAR & HOURS
School Registration Desk
Monday - Friday, 10:00 a.m. - 7:00 p.m.
Saturday, 9:30 a.m. - 2:00 p.m.
School Hours
Monday - Saturday, 10:00 a.m. - 8:00 p.m.
Contact for Registration
education@eastendarts.org
631.369.2171
Lessons & Classes
Scheduled throughout the week and weekend, day and evening times
Class Calendar
Our calendar follows most East End school district calendars
Fall semester: September - January
Spring semester: February - June
Summer session: July - August
Inclement Weather
In the event of inclement weather, a notice will be posted on our homepage.
Additionally, students are welcomed to call the School at 631-369-2171 for information regarding closings or class cancellations.
---
---
Student Spotlight
 
Emme Siar
This year's art class with Ms. Haupt at East End Arts provided Emme face-to-face instruction as she began her artistic journey. As a beginner artist, the program allowed her to highlight her talents. She really enjoyed learning about the artists, the histories, and the backgrounds behind the pieces she was about to create. The different mediums provided many new opportunities and in turn, her art supply at home has grown immensely. Emme is developing her artistic skills and looks forward to many, many more classes at East End Arts.
Ayanna Schwarz
Ayanna, also a student of Ms. Haupt, has made many lasting memories learning art and fine-tuning her creative spirit while exploring a variety of
techniques. Ayanna has always loved art and especially loves the way Miss Melissa challenges her to add to her projects in specific ways. Ayanna embraces
her journey as an emerging artist and continues to participate in more classes and workshops at EEA.
Emme Siar

Ayanna Schwarz
---
Testimonials
Hello Education team! 
I had to write to thank you for a wonderful camp experience for Calvin this week. The snow got in the way a bit, but it didn't stop the fun! He was so proud of himself and really enjoyed his time with the other campers and Ms. Haupt. 
If you run a camp for the next school vacation, you might want to advertise it with one fewer seat than is available, because Calvin definitely wants a spot! 
With gratitude,
Emily Puccio 
---
Dear Ms. Ruscisck,
I just want to tell you how grateful I am that EEArts offers such valuable art courses. I have taken a few painting classes over the years, and always come away having learned something new. All of your art teachers have been knowledgeable and helpful in conveying different techniques. However, in taking classes with Kenneth Jackson I've learned so much! He  is not only a wonderfully talented artist, but he is an outstanding teacher. Since taking classes with him, I am able to incorporate what I've learned in class to other pieces that I'm working on at home. I can see true improvement in my work from sketching and blending colors, to being more aware of shadow and light. I really see things differently. I am so thankful that through his tutelage, I can see  myself growing as an artist. I feel very fortunate to have access to classes offered by the true professionals teaching at the East End Arts.
Sincerely,
Ellen Kingston
---
In reference to EEA's first EEA Rocks Concert, January 2021
Great performance by all! 

Kathleen, you guys put together a class act and the production was incredible. I am so glad that Franklin could be a part of it. 
Watching the show on my computer I am amazed at the wonderful quality of sound and film - plus the performances were TERRIFIC! 
Thank you so much for always encouraging our young artists. EEA and you are a Godsend for them. 
:) Holly
---
In reference to EEA's first EEA Rocks Concert, January 2021
Thank you Natalia, Indira, and Franklin for all of your performances, and for sharing your musical talents. You are all an inspiration to other students and to all the parents and other supporters of the Arts. It is a pleasure working with all of you.
And thank you Kathleen for bringing it all together, while still giving the students the latitude to be creative. EEA is truly a respite and outlet for expression and artistry.
This accomplishment is something to be very proud of - well done, everyone!
Rob G.
---
In reference to EEA's first EEA Rocks Concert, January 2021
Yes! Thank you to Kathleen and all the team at East End Arts for providing amazing opportunities for our kids and allowing them to shine! I am especially grateful as Kathleen made it possible for Indira to join at the last minute and to Franklin for agreeing to accompany her and learning a song in one night! What talent!
Congratulations to all!
Dushy and Roman Roth