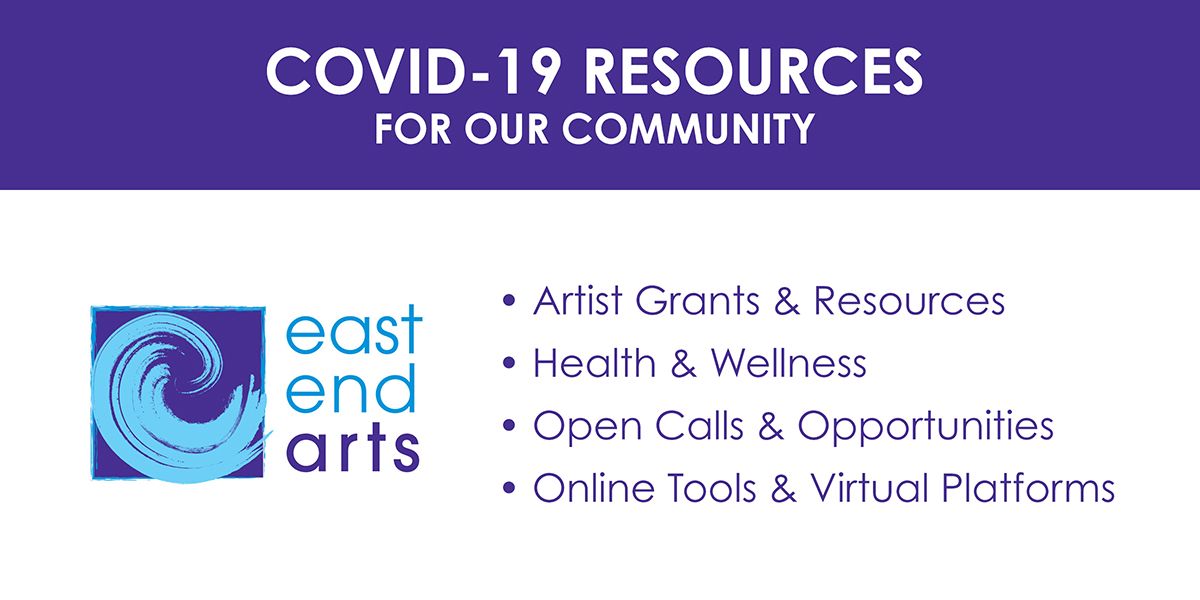 List of Resources & Relief Services for Artists
Many artists, musicians, and creative professionals need to adjust their daily life and work as art exhibitions, performances, and classes are cancelled or moved to online services due to public health concerns and containment efforts. This list contains resources for those who are financially impacted by the COVID-19 pandemic, as well as links to health and wellness resources, open calls for artists, information for adapting your creative profession to online platforms, and virtual resources for viewing art and experiencing performances and readings online. We are committed to helping our community of artists, musicians, teachers, students, parents, supporters and members through these challenging times. We will continue adding to this page as more resources and opportunities become available.
This page will be continually updated. Please check back regularly for updates.
*Note to East End Arts Community
Please email info@eastendarts.org if you know of additional resources you would like to share, and we may add them to this webpage. 
Information provided is subject to change. Please visit the resource websites for the most up-to-date information.
---
Grants for Artists (New York State & National)
Please review the terms of each grant using the links provided and note that certain grants have application periods and deadlines, while other grant applications are accepted on a rolling basis.
---
New York Foundation for the Arts: Emergency Grants
Please visit link above for a list of emergency resources related to COVID-19 for artists, musicians, and other creative professionals
---
Anonymous was a Woman: Emergency Relief Grant
To review the complete terms of application and for further information please click the link above
Grants up to $2,500 per artist for women-identifying visual artists over age 40 who have been impacted by the COVID-19 crisis
A link to the application form will be made available on Monday, April 6 at 10:00 AM EST on the nyfa.org website (link above)
APPLICATION CLOSES: Wednesday, April 8, 2020, 6:00 PM EST
APPLICATION NOTIFICATION: By Thursday, April 30, 2020
---
One-time grants of up to $5,000 for unexpected medical emergencies. Please review the eligibility requirements in the link provided above.
---
Grants of up to $500 per person for independent photographers financially impacted by COVID-19
---
The Artists' Fellowship: Emergency Aid Grants
Currently this grant is only for individuals dealing with medical emergencies:
"Effective immediately, we are temporarily limiting relief and assistance applications to those qualified applicants who are dealing with immediate medical emergencies and their aftermaths. This restriction will be revisited periodically as conditions change."
---
Arts and Culture Leaders of Color Emergency Fund
Fund for individuals pursuing careers as artists or arts administrators who self-identify as BIPOC (Black, Indigenous, People of Color) and whose income has been directly impacted by the COVID-19 pandemic.
---
Artist Relief Project (Artly World)
Artists in any discipline who has been impacted by COVID-19 related cancellations and closures may apply.
---
Lists of Resources for Artists, Musicians, and Creative Professionals:
These are additional lists of arts resources provided by local and national arts organizations and publications.
National Endowment for the Arts: COVID-19 Resources
New York Foundation for the Arts: Emergency Resources
BOMB Magazine: Artists Resources
Americans for the Arts: Coronavirus (COVID-19) Resource and Response Center
Article – Arts Support Included in Federal COVID-19 Relief Bill: CLICK HERE >>>
Creative Capital: List of Arts Resources During the COVID-19 Outbreak
The Artists' Fellowship: Emergency Aid Resources List
New York State Council on the Arts: Resources for NYS Arts and Cultural Organizations re: Novel Coronavirus (COVID-19)
Statera Arts: COVID-19 Emergency Response Directory
Artists Thrive: COVID-19 Resources
Kickstarter: Resources for Artists in the COVID-19 Crisis
Amuse: Career Resources For Music Artists During COVID-19 Pandemic
---
Health & Wellness Resources 
Resources for physical and mental health
---
Center for Disease Control: COVID-19 Advice & FAQ
World Health Organization: COVID-19 Information & Guidance
New York State Office of Mental Health: COVID-19 Resources & Tips for Mental Wellness
Suffolk County Department of Health Services: COVID-19 News & Local Resources
---
Apps for Wellness and Exercise
Here are a few apps for meditation and workouts at home. In many cases you can download a free trial.
---
Open Calls & Opportunities for Artists
Current opportunities for showcasing your work, as well as job postings.
Recent opportunities include online exhibitions, competitions, publications, etc.
---
New York Foundation for the Arts: Opportunities / Classifieds
Applications for future residencies, exhibitions, prizes, etc. Listings updated daily on weekdays.
Visit the Classifieds page for more information on job postings and you can now create postings for jobs in any industry free of charge: CLICK HERE >>>
"COVID19 RELIEF: At this time, all accounts will be able to post to NYFA Classifieds free of charge. NOTE: Unpaid and below minimum wage internships are excluded from free listings."
---
---
Online Tools & Tips for Artists
Read the following articles and resources to learn how web services can improve your online presence through sales, social media, and more. There are so many opportunities to expand your creations to digital platforms and they can be accessed from your personal computer, smart phone, or tablet.
---
Artwork Archive: Digital Tools for Artists to Run a Remote Career During Coronavirus. Check out this article for a variety of digital tools to explore
---
Zoom Video Communications: Support during the COVID-19 pandemic
Zoom is a platform for video and audio conferencing. You can use Zoom to teach art classes remotely, hold video meetings with clients and collaborators, and host virtual events.
Access Zoom's resource guide for the pandemic here >>>
---
Social Media, Sales & Subscription Tools:
Instagram: Share images and videos and connect with fellow artists worldwide. CLICK HERE >>>
---
Patreon: For all creators, a subscription content service. You create content and earn from your "patrons." CLICK HERE >>>
---
Society 6: Create art for prints and products for sale. You provide the images and they make the items. CLICK HERE >>>
---
Blurb: Create books, magazines, or ebooks of your art, photography, etc. CLICK HERE >>>
---
Etsy: Online platform for selling original artworks, prints, handcrafted items, apparel, etc. CLICK HERE >>>
---
Artwork Photography – Tips for Photographing Your Art for Digital Sharing:
Artwork Archive: 4 Steps to Photographing Your Art Like a Professional
Pixelz: How to Use your Smartphone to Capture High Quality Product Images
---
Website Creation – Consider These Platforms for Creating a Personal Website for Your Work. Most services include a free version.
Weebly: Website creation is streamlined and user-friendly. Choose from a variety of site templates and drag and drop your images and text.
Wix: Another user-friendly, drag and drop website creation service. 
The following website services may have more of a learning curve:
Check out these articles for advice on website building and other platforms to share your art portfolio:
Artsy – 6 Artist-Approved Platforms for Building Your Website
Agora Gallery – Tips For Personal Artist Websites
CNET – Best website builder for 2020: Wix, Squarespace, and more compared
---
Upcoming Online Events & Webinars
New York Foundation for the Arts
Artwork Archive Webinar – Strategies for Running an Art Business During COVID-19
Creative Capital – Coping with COVID: Financial Implications for Creative Individuals
---
Virtual Resources to Inspire While You Are at Home: Online Art Viewing, Virtual Concerts & More
Art is best experienced in person, but you can take advantage of many virtual apps to get inspired by viewing art online, as well as live streaming performances and readings.
Google Arts & Culture App: Virtual Viewing
While museums and galleries are closed, take virtual walk through tours of your favorite museum collections and discover new destinations and cultural landmarks to "visit": https://artsandculture.google.com/
---
Article – Hyperallergic: 2,500 Museums You Can Now Visit Virtually
---
NYC The Official Guide: Virtual NYC
Visit NYC virtually and experience Broadway & Theater, Comedy, Films, Galleries, Museums, Performances and more
---
NPR Music: Virtual Concerts Listings
This up-to date listing includes music concerts in a variety of genres
---
Youtube Learning: Videos for Learning at Home for All Ages
---
Facebook Live: Create live broadcasts, performances, conversations, and more, or watch others from your account.
---